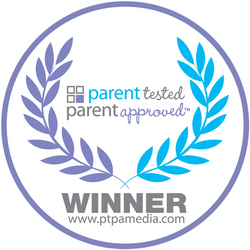 Beverly Hills, CA (PRWEB) May 11, 2010
Companies that submitted products for testing by PTPA Media parent product testers can stop holding their collective breath. The PTPA Media Award Winners for Summer 2010 are here and they're smart, fun, innovative, and so cool they're actually hot!
Curious?
Here's a small sample of this summer's winners:

Super BabyGO!
Hangadoo Pet
Dyson DC 25 Animal
Complete Tooth Fairy Kit
Smartipants Reusable Cloth Diaper
Snapfish by HP
What do they do?
Turn a smart phone into a toy just before a toddler grabs it! Organize all pet gear in one sturdy place. Get a spotless home with a vacuum that won't quit . Create an everlasting keepsake with the innovative tooth fairy kit. Don't "bare" your baby's soul with a new specialized reusable cloth diaper. Stay sane with a photo website that really does make it easy to share, edit, create, and store digital photos.
So say parents…and that's the point.
PTPA winners are chosen based on merit and consumer experience – not on commercial considerations. As a result, the PTPA Seal has become an international symbol of quality, effectiveness and value in the family marketplace.
Consumers looking for practical, high-quality products and services can rest easy knowing that products bearing the PTPA Media "Winner" Seal are indeed "Parent Tested, Parent Approved."
Even celebrities look for the PTPA Media Seal!
"As a working single mother, I go to PTPA for unbiased and 'safe' advice...from parents, not marketers pushing a particular product," says actress and author Josie Bissett, star of Melrose Place and mother of two school-age children.
Companies ranging from Johnsons' Baby and Snapfish by HP to Disney and Cisco submit products for testing by PTPA's network of over 35,000 volunteer product testers. To earn the seal, a product or service must meet with the approval of parent product testers.
"At PTPA Media, we're proud to play a role in certifying innovative new products and services that parents can trust," says Sharon Vinderine, President and Founder of PTPA Media Inc., "by improving communication between manufacturers and consumers, we not only help companies develop their products, but also help families find Parent Tested, Parent Approved products. It's win-win."
For a complete list of Summer 2010 award winners, visit our winners announcement.
About PTPA Media:
PTPA Media provides an objective framework for appraising and promoting new products designed to enrich family living. The company's mission is to marry innovative companies with discerning consumers, to improve families' access to quality products and services.
###