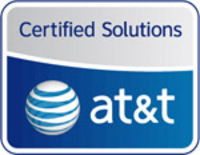 KWizCom's Mobile Extensions are the logical answer to the challenge of providing a task-oriented and focused mobile interface for the many organizations that have deployed their processes in a SharePoint environment
Toronto ON (PRWEB) May 11, 2010
KWizCom, a leading provider of critical SharePoint components to over 3,000 organizations around the world, announced today that its innovative Mobile Extensions received Certified Solutions status from communications giant AT&T. KWizCom's Mobile Extensions, a smart phone connector that permits intelligent, user-centric and task-based access to enterprise SharePoint deployments, is the only SharePoint mobile solution currently certified by AT&T, one of the world's largest providers of communications services.
"We are extremely proud of the fact that our Mobile Extensions have been acknowledged in this way by a communications leader like AT&T," said KWizCom's Director of Product Management, Nimrod Geva, "With the proliferation of smart phones, salespeople, support personnel and other staff in the field require quick and easy access to perform the tasks in precisely the way that they need. KWizCom's Mobile Extensions are the logical answer to the challenge of providing a task-oriented and focused mobile interface for the many organizations that have deployed their processes in a SharePoint environment."
Unlike other mobile SharePoint solutions on the market, KWizCom's smart phone connector provides the ability to quickly render task-oriented interfaces that address different mobile users' specific needs. With KWizCom's Mobile Extensions, mobile users are not presented with an exasperating "laundry list" of items and will avoid a frustrating navigation experience when they need to perform critical tasks while on the road. Like all KWizCom solutions, Mobile Extensions users are able to produce, in a matter of minutes, this custom-tailored, focused mobile interface. Importantly KWizCom's Mobile Extensions are also available for SharePoint 2010.
Please read more about KWizCom and the Mobile Extensions at http://www.kwizcom.com
About KWizCom
Since 2005, KWizCom has provided innovative software components to over 3,000 companies worldwide. KWizCom's innovative solutions expand Microsoft SharePoint, Project Server and Dynamics CRM out-of-the-box capabilities, streamline workflow, maximize efficiency and enhance overall productivity for hundreds of thousands of users.
KWizCom, a Gold Certified Microsoft Partner, is headquartered in Toronto, Canada. Please visit http://www.kwizcom.com to find out more about KwizCom's clients, people, partners and solutions.
For media and other inquiries, please contact:
KwizCom Media Relations, +1-905-370-0333.
###