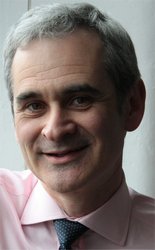 London (PRWeb UK) May 13, 2010
The David Clementi review of legal services, and resulting deregulation of the provision of different forms of services by non-legal organisations (the so-called Tesco law), has created considerable interest and tensions within the United Kingdom's legal practices. The Scottish Law Society in particular has recently been struck with members' division over these developments. At the same time, legal practices have been hit by the UK recession. But the practice of deregulating professions and industries has, for the most part, ensured higher quality and variety of services being made available to the consumer, and led to considerably better opportunities for the industry.
BigWig network is a new London-based membership and development organisation that seeks to answer the profession's concerns by assisting members to:

understand the possible types of new legal services that will spring into life over the next three to five years
obtain knowledge, training and business networking
participate in workshops and development programmes aimed at assisting forward-thinking legal practitioners to take full advantage of the new opportunities that arise.
In particular, BigWig's members will be exposed to innovative ways of practising law, examples of how Alternative Business Structures can work, and new types of practice organisation to handle efficient delivery of legal services. Business development methods and ways of increasing referrals will be key themes, and BigWig itself will act as an advocate and a lobby group on issues within the profession to the Government, Law Society, and other interested parties.
BigWig's membership will be made up of Partners, solicitors of all experience levels, paralegals and students. Three grades of membership are offered, Gold, ideally for partners and priced at £79 per month, Silver, for solicitors, priced at £39 per month, and Bronze, for law students, trainee solicitors and paralegals, priced at £19 per month, for the first 300 signups for all grades.
A membership form can be downloaded at http://www.bigwignetwork.co.uk/index.php?page=membership.
Founded by Liam Wall, chief executive officer, with a deep understanding of the changes likely to take place, and long-standing contacts with senior legal professionals, BigWig's mission is to help solicitors take full advantage of new opportunities to come, whilst recognizing and addressing concerns solicitors may have been considering when engaging with the deregulated landscape.
"As we saw in the Law Society of Scotland's meetings recently, many solicitors I speak to seem fearful of the change that deregulation will bring. In fact, it will swiftly open up new opportunities for all solicitors to increase their earnings by embracing new models of business. This has been the case in previous deregulations in United Kingdom." Wall stated.
Monthly networking meetings limited to 60 delegates will be held at the Strand Palace Hotel, London, on the last Wednesday of each month, commencing Wednesday, May 26th 2010 at 6 p.m. There is no fee for this inaugural session, and bookings may be made online by visiting http://bigwig.eventbrite.com/.
###