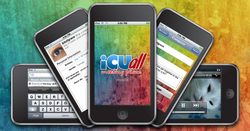 Access the "Whats New" wall to send updates to everyone mobily on most smart phones including the iPhone and Droid phones.
Corpus Christi, TX (PRWEB) May 12, 2010
Cybration, Inc. announces the launch of http://www.icuall.com Your Meeting Place, a new and innovative social networking choice. iCUall is a place where web surfers can hang out with friends, post pictures, music, and more. Unlike other social networks iCUall gives users a place to play games and visit with friends and not be flooded with advertisements and notices. Also iCUall allows adult content unlike the majority of sites online. Varying levels of privacy are at the users control to suit the content.
iCUall is a new and exciting social networking choice.
Add Facebook or Twitter feeds. See the streams from the most popular social networks and make updates to them from within iCUall. Users can place the feeds from their favorite site on one main wall and see everything that is going on in their world.
Access the "Whats New" wall to send updates to everyone mobily on most smart phones including the iPhone and Droid phones.
iCUall is constantly on the look out for new and exciting ways for its users to have fun and enjoy their online time.
Start groups, organize events. The options are easily accessed with a few mouse clicks.
Each user can customize their wall or profile to be exactly what they like. From two columns to four your wall can be tailored to your specifications. Back ground images, colors, fonts banners all of the look and feel can be set by each user.
iCUall has four levels of users from a free account to a site sponsor. The Basic level is free and includes, 5 songs 5 videos and 5 Photo Albums. The second level "Mini Space" includes 15 songs,10 videos, 10 Photo Albums, Blog creation and Private Messaging for eight dollars a year. The third level the "VIP-Space" is eighteen dollars a year and includes space for 30 songs, 30 videos, Unlimited Photo Albums, Blog creation, Private Messaging, and Group & Event Creation. The fourth level is a site sponsorship offer that includes ads throughout the site and in all the newsletters. The sponsor level is at an introductory offer of 85 dollars a year. A complete set of features and user levels is located on the right margin of this press release.
iCUall is a constantly changing and growing community. A user can contact the administrators about customizing the site. iCUall CEO Kevin Adair says,"We know we cannot make everyone happy. But we are willing to look at individual requests on a daily basis to make the site better. Our intent is to make the site alive."
iCUall is created by the makers of iCU2 Video Chat, an award winning video chat program since 1996.
# # #