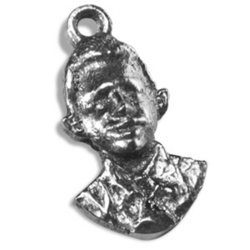 Sedalia, MO (PRWEB) May 12, 2010
3D character maker Virtusculpt has launched Ca-Me-O, a new personalized gift line consisting of personalized cameos and personalized charms. Each Ca-Me-O is a miniature sculpture crafted from the user's own photograph.
Each Ca-Me-O personalized cameo is made out of ivory resin and mounted on genuine black Onyx with a choice of settings. The Ca-Me-O pendant is set in solid Sterling Silver and comes with an 18" bright silver plated chain. A bright silver plated cuff bracelet is another setting available for this unique approach to personalized jewelry.
Each Ca-Me-O personalized charm is made of solid Sterling Silver and hand cast by New England artisans. The 17mm charms are perfect additions to any bracelet, while the 21mm pendant charms look great when worn on a silver chain.
Ca-Me-Os are intended for teens, mothers and grandmothers and will be offered as gifts for graduations, Mother's Day, birthdays, Bar/Bat Mitzvahs and Valentine's day. Users can upload their favorite portraits to create Ca-Me-Os at http://www.Ca-Me-O.com or http://www.Virtusculpt.com/store. Ca-Me-Os are also available from school portraits through the on-line store at Inter-State Studio & Publishing.
To create each 3D Ca-Me-O, Virtusculpt uses the same patented model creation method which it uses to create its personalized characters for video games and virtual worlds. The 2D to 3D software turns standard portraits into accurate 3D models with a unique 3D geometry for each individual.
Virtusculpt is a wholly owned subsidiary of Inter-State Studio & Publishing Company, the largest family-owned school photography and yearbook publishing company in North America.
###