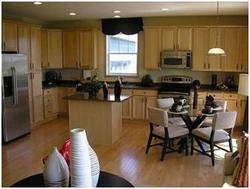 Saint Paul, MN (PRWEB) May 11, 2010
For first-time home buyers, costs, financing and paperwork can seem like an overwhelming and lengthy process. Ryland Homes, one of the premier Twin Cities home builders for over 30 years, aims at making the process seem much less difficult. To mitigate unforeseen issues and discuss future homeowners' expectations, Ryland Homes provides valuable advice and information, addressing home buyers' concerns.
As an added convenience, Ryland Homes provides a streamlined suite of home buying services to help with financing, homeowner's insurance, title and closing services, and choosing options and upgrades. Ryland Homes Reassurance, a mortgage payment protection program, is an additional resource for homeowners' in the event of unexpected job loss.
Ryland Homes celebrates these unparalleled home buying services with the announcement of new properties and communities.
The Twin Cities new home builder offers numerous affordable new townhomes starting at under $155,000 for 1,567 sq. ft. of space and up, and single-family homes starting at under $210,000 with more than 1,380 sq. ft. of space, some available for immediate occupancy.
In addition, Meadowcreek single-family homes are available in Farmington, MN, with special introductory prices starting at $229,000. Included with any Ryland Homes purchase is the peace of mind of a 10-year Ryland Homes Warranty Program that includes one year wall-to-wall coverage, two years electrical, plumbing, heating, cooling and ventilation system coverage, and 10-year major structural defect coverage.
Interested potential home buyers can find maps, a mortgage calculator for estimating monthly payments, and read more about how to simplify the home buying process with Ryland Twin Cities.
About Ryland Homes
Headquartered in Southern California, Ryland is one of the nation's largest home builders and a leading mortgage-finance company. Since its founding in 1967, Ryland has built more than 285,000 homes and financed more than 240,000 mortgages. The Company currently operates in 15 states and 19 homebuilding divisions across the country and is listed on the New York Stock Exchange under the symbol 'RYL'. For more information, please visit http://www.ryland.com.
# # #