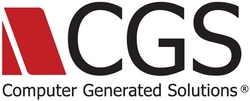 We are honored to receive this prestigious award
New York, NY (Vocus) May 13, 2010
The Learning and Training Division of Computer Generated Solutions Inc. (CGS) has received a coveted 2009 Brandon Hall Excellence in Learning Technology Award for its i-Plus Web Lecture Creator software. Used to develop e-learning presentation materials, the innovative software won a Bronze Award in the category of Best Advance in Technology for Rapid Authoring. The annual Awards program recognizes and showcases technological advances in commercially-available products for workplace learning.
"We are honored to receive this prestigious award", noted Michael Wilding, SVP of Technology Solutions and Training Division at CGS. "Historically, the use of e-learning materials has been limited by the specialized and costly resources required to produce them. iPlus Creator eliminates these barriers by putting the power of professional presentation development tools in the hands of every employee. This recognition by leading independent experts affirms our commitment to innovation in this exciting market."
i-Plus Creator allows any company to leverage the many advantages of e-Learning by making it possible for all employees to quickly create highly professional e-learning courses. In just minutes, employees can use i-Plus to transform their Microsoft® PowerPoint® presentations by creating and adding audio, changing background colors and themes, uploading supporting Adobe® PDF documents, creating podcasts, publishing them to the internet, and more. As presentation content changes, a powerful synchronization tool enables users to quickly update their i-Plus projects by simply making changes to their original PowerPoint slides.
The Brandon Hall Excellence in Learning Technology Awards are presented by Brandon Hall Research, one of the leading research firms in training and development. The Learning Technology Awards program showcases innovations in the products in the marketplace for creating and managing learning, talent, and performance. The Best Advance in Technology for Rapid Authoring category comprises functionality that expands the capability or streamlines the process of rapid authoring.
According to Brandon Hall, Ph.D., Chairman of the Awards program, "These outstanding tools and systems propel the learning profession forward. These innovative products let customers make learning faster, better, and easier."
About Brandon Hall Research
Brandon Hall, Ph.D. is the CEO of Brandon Hall Research and author of the ground-breaking "Web-Based Training Cookbook." Since 1992, Brandon Hall Research (http://www.brandon-hall.com) has been providing independent research reports and expert advice on using technology in learning. Brandon Hall Research conducts Awards programs each year to recognize the best in innovative learning.
About CGS
For twenty-five years, CGS has enabled global enterprises, regional companies and government agencies to drive breakthrough performance through technology. With global delivery capabilities, expertise across leading platforms and deep experience in multiple industries, CGS has become the IT partner of choice for thousands of organizations worldwide. CGS delivers a wide array of proprietary and third-party business applications, technology and business services, outsourcing solutions, and learning and communications platforms. Headquartered in New York City, CGS maintains a worldwide presence with 20 offices in North America, Europe and Asia. For more information please visit http://www.cgsinc.com.
Microsoft and PowerPoint are registered trademarks of Microsoft Corporation in the United States and/or other countries.
Adobe and PDF are either registered trademarks or trademarks of Adobe Systems Incorporated in the United States and/or other countries.
# # #