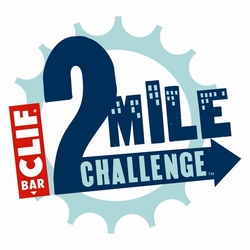 This year we're offering people the chance to do twice the good on every single ride
Berkeley, Calif. (Vocus) May 11, 2010
CLIF® BAR renewed its commitment to fight climate change today, kicking off the 2010 CLIF BAR 2 Mile Challenge. This nationwide campaign encourages people to ride a bike instead of driving a car for trips two miles or less to reduce carbon dioxide emissions that cause climate change.
New this year, CLIF BAR is encouraging riders to find strength and inspiration in numbers by joining one of three 2 Mile Challenge teams. Each team represents a non-profit organization that fights climate change or promotes bicycling advocacy. The three non-profits will each receive a $25,000 grant from CLIF BAR.
As a bonus incentive, the team that acquires the most points by October 31 will earn an additional $25,000 grant from CLIF BAR for its non-profit organization. Points will be awarded for: 1) registering for a team and linking personal Facebook accounts to the 2 Mile Challenge site, 2) issuing bike-riding challenges for yourself and friends, 3) logging trips completed on the 2 Mile Challenge site, and 4) logging trips for consecutive weeks.
Riders can sign up for the following teams to support their corresponding non-profit organizations at http://www.2milechallenge.com:

"This year we're offering people the chance to do twice the good on every single ride," said Lauren Hatfield, lifestyle experience manager at Clif Bar & Company. "By joining a 2 Mile Challenge team and trading their cars for bikes on short trips, riders can reduce harmful carbon emissions in their own communities and help non-profits educate and serve larger communities across the country."
2 Mile Challenge reps will be present in CLIF BAR booths at film festivals, concerts and other outdoor and environment-focused events across the country this summer encouraging people to join the ride. Those who join can stay in touch and challenge others to ride through Facebook postings and team Twitter accounts.
To further engage bike riding and educate on climate change, CLIF has created 2 Mile Challenge partnerships with various print and online media, including GOOD, Daily Mile and others. 2 Mile Challenge messages will appear on their websites, Facebook pages and blogs, in their subscriber email campaigns and in some print issues throughout the summer.
Why Ride?
In the U.S., 40 percent of all urban trips are two miles or less, and 90 percent of those trips are made by car. If one of 10 car commuters switched to a bike, carbon dioxide emissions would be reduced by 25.4 million tons per year (U.S. Dept. of Transportation).
Every mile traveled by bike instead of car prevents one pound of carbon dioxide from entering the atmosphere, according to the Climate Leadership Initiative at the University of Oregon. Car-generated carbon dioxide is one of the leading causes of global climate change.
What, Where and How to Ride
To make it easier for people to use a bike for short trips, CLIF BAR offers its "Bike Builder" tool on the 2 Mile Challenge website that shows people how to "build" a bike that best meets their needs. "Bike Builder" helps riders choose, shop for and use the right bike and gear for different riding scenarios, such as carrying groceries, riding to work and selecting safety gear.
Riders also can build a customized Google map at http://www.2milechallenge.com to identify grocery stores, coffee shops, banks, restaurants and other destinations within a two-mile radius of any location.
Protecting Outdoor Play
The 2 Mile Challenge is part of CLIF BAR's commitment to protecting the outdoor places where people play. During the winter months, CLIF BAR's Save Our Snow campaign helps ski resorts, skiers and snowboarders fight global warming by encouraging people to make changes in how they get to and from the slopes and where they ski and ride. CLIF BAR also donates 1 percent of net sales to 1% For The Planet, a network of over 1,200 businesses that contribute to more than 2000 environmental organizations worldwide.
About Clif Bar & Company
Clif Bar & Company is a leading maker of nutritious, all-natural, organic foods and drinks, including CLIF® BAR energy bar, LUNA®, The Whole Nutrition Bar for Women®; and CLIF Kid®, Nourishing Kids in Motion®. Focused on sports nutrition and healthy snacks, the company is committed to sustaining its people, brands, business, community and planet. (http://www.clifbar.com)
Facebook is a registered trademark of Facebook, Inc.
Google is a trademark of Google Inc.
Twitter is at trademark of Twitter, Inc.
Dean Mayer
Clif Bar & Company
510-558-7855, x130
dmayer(at)clifbar(dot)com
###