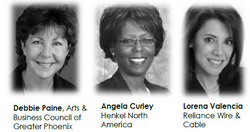 "My dream to have this event began when I spoke before a very influential group of women in business and law. I asked, 'How many of you give to yourself as much as you give to others?' Only one hand was raised. Dr. Joel Martin
Scottsdale, AZ (PRWEB) May 12, 2010
Dr. Joel Martin, speaker and master trainer: "My dream to have this event began when I spoke before a very influential group of women in business and law. I asked, 'How many of you give to yourself as much as you give to others?' Only one hand was raised. I decided then that it was necessary to create an event that provides women with bold, invigorating opportunities to fully unleash their dynamic selves. Stepping out on faith, I designed and produced Positively Powerful Women Awards and Workshops. With the support of sponsors and friends, I am able to make my dream a reality."
The 2010 Positively Powerful Women Award Recipients Angela Curley, Debbie Paine, and Lorena Valencia
Angela Curley, Manager Corporate Diversity and Inclusion, Henkel North America selected as the first Positively Powerful Corporate Executive Award Recipient for leadership in diversity initiatives and significant contributions to the growth of minority and women owned business as well as her service on nonprofit boards.
Originally from New York, our award recipient relocated to Arizona to join the Dial Corporation. Since joining the company in 1998, she has provided direction on community outreach efforts as well as the diversity program. Since the acquisition, Angela has provided guidance to the President of Henkel on the creation of the global diversity program and is currently the leader and strategist for all Henkel sites in North America. She is the liaison for ten Employee Resource Groups in the US and the Women in Leadership Team in Germany. She is the coordinator and creator of Henkel's first Corporate Council for Diversity and Inclusion. Under her leadership, Dial/Henkel was recognized by AZSHRM as Corporation of the year 2001 and 2009, Best Places to Work in CT 2010 and well as other awards. Angela served three years on the board of directors for the Greater Phoenix Black Chamber of Commerce, was recognized as a 2008 Athena nominee, serves as Co chair of Valley of The Sun United Way CIC Committee and is on the board of directors of the Diversity Leadership Alliance. She is the recipient of Dial's highest individual recognition, the Reaching for Greatness Award. http://www.henkel.com
Debbie Paine, Executive Director, Arts & Business Council of Greater Phoenix as the first Positively Powerful Nonprofit Executive Award Recipient for her vision and programs that bring together art, artists, and businesses as well as her organization's "Business On Board" program that prepares diverse executives to serve and lead boards of directors.
Born and raised in Hudson, Massachusetts she became deeply involved in the non-profit community after relocating to Phoenix in 1981. In addition to being president of Lead for Good, belonging to both the ASU Community Council and the Phoenix Symphony Board of Overseers, our award winner has 28 years of diversified leadership experience - Interim Director of Volunteer Services and coordinator of the 12 Who Care Honorable Kachina Awards for St. Luke's Medical Center, Director of Operations, Make-A-Wish Foundation of America, Executive Director, Heather Farr Foundation - before her stewardship of the Arts & Business Council.
Lorena Valencia, President/CEO, Reliance Wire & Cable, the Positively Powerful Woman Entrepreneur Award Recipient for her business success and leadership of nonprofit organizations especially The Grand Canyon Minority Supplier Development Council. She is the GCMSDC Council MBEIC Chair and national MBE co-chair of the upcoming National MSDC Convention.
This award recipient is also President of Magin Corp, a corrugated carrier distribution company and Fizz Technologies, an IT company that delivers collaborative technical solutions. Lorena has grown her companies from complete start-ups to successful organizations that gross over $60 million dollars. Although the main manufacturing facility is in Monterrey, Mexico, their network allows them the ability to manufacture products in over 200 locations around the world. Her companies have corporate offices in Scottsdale, Arizona and a satellite office in San Diego, California.
Lorena, an avid tennis player, reader and artist, is a first generation bi-lingual, Mexican-American. Born and raised in Chicago, she currently resides in Scottsdale, Arizona. http://www.reliancewire.com
The 2010 Premiere Sponsors are Southwest Gas Corporation, Henkel North America:
Southwest Gas Corporation - provides natural gas service to approximately 1.8 million customers in Arizona, Nevada, and California. http://www.swgas.com "Southwest Gas is committed to giving all professionals an opportunity to grow and thrive in the business community," said Garry Walters, Southwest Gas administrator/Community and Consumer Affairs. "Through our Supplier Diversity program we're able to work with the most talented and skilled vendors in the Valley- a real win-win for everyone."
Henkel North America - The North American members of the Henkel Group employ more than 7,000 people and operate in four business sectors: Laundry & Home Care, Personal Care, Consumer & Craftsmen Adhesives, and Henkel Technologies. http://www.henkel.com Henkel understands diversity as an important component in our corporate culture and is particularly involved in the fields of internationality, family compatibility, the promotion of women and talent management with respect to our employees.
Dr. Joel Martin, Positively Powerful Events Producer and Host is considered "a genuine genius in her approach to personal transformation." She has spoken before and/or trained people of all ages across the U.S. and internationally. With her, lives are changed for the better. Businesses and relationships are transformed. People are more engaged and able to create high performing teams. She is President of Triad West specializing in diversity, leadership, and breakthrough performance. Joel serves as a Commissioner on the Human Relations Commission, City of Scottsdale; PowerNetworking Conference Director of Education; Delegate American Homes and Services for the Aging (AAHSA); Board Member American Baptist Homes of the West (ABHOW); NAMD Emeritus Chairperson; and past Board Member American Red Cross Grand Canyon Chapter.
# # #