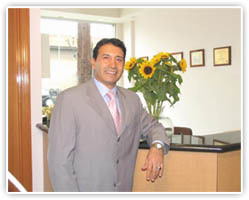 Culver City, CA (PRWEB) May 11, 2010
Dr. Abbas Eftekhari, a respected Culver City dentist who specializes in family and pediatric dentistry, is currently offering a special discount rate to new patients. For just $49, new patients to Dr. Eftekhari's office, United Dental Care, can receive an initial exam, an oral cancer screening, as well as x-rays (as needed). A second special offer, the "Welcome Back" offer, gives patients who have not visited for at least two years a similar exam for $49, or a cleaning for only $59.
About Dr. Eftekhari
Dr. Eftekhari, affectionately known just as "Dr. E" to his young patients, has been serving the residents of West Los Angeles, Upland, and Culver City for more than twelve years. A dentist who values a gentle touch, Dr. E has trained his staff especially to help dentophobic patients and children overcome the anxiety so often associated with a dental visit.
Popular with his young patients, Dr. Eftekhari is well-known for talking to the children he treats instead of talking "at" them. By showing them the dental instruments he's using and educating them about oral health, he works hard to help children overcome any fears they might have of the dentist. He invites them to ask any questions they might have, and he replies to these questions in a way that kids can understand.
Dr. E's passion for helping children extends beyond his dental practice; he's also worked as a volunteer with the Boys & Girls Club in their "One Smile at a Time" project, which helps underprivileged children receive much-needed dental care and oral hygiene education.
Other Services and Doctors
Besides treating children, Dr. E is also a Culver City cosmetic dentist, offering cosmetic services such as tooth whitening, porcelain veneers, attractive resin cavity fillings, implant restorations, and more. Other doctors working in Dr. E's practice include Dr. Reza Salmassian, an orthodontist; and Dr. Hamid Daneshmand, who is a periodontist.
Dr. E, Dr. Salmassian and Dr. Daneshmand in United Dental Care and their Upland dentist office, Upland Dental Practice, stand ready to relieve you and your family members of any dental problems you might be experiencing. If you're looking for a Upland pediatric dentist, Culver City dentist or a West Los Angeles dentist, be sure to contact Dr. Eftekhari's office to ask about their Welcome Exam special.
To learn more about the specials offered at United Dental Care call (310) 390-6000, or visit their website at http://www.CulverCityDentist.com or go their office at 3909 S. Sepulveda Blvd., Culver City, CA 90230 or Upland Dental Practice at (909) 920-6000, or go to their website at http://www.UplandDentalPractice.com or visit them at 300 East 7th St. Suite 1-4, Upland CA 91786.
Internet Marketing by http://www.seocompanyca.com
# # #