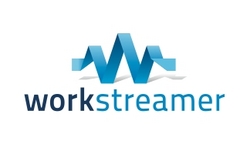 "The value of this new program to our partners is that it is easier to place their content in front of our growing community," Hank Weghorst, Co-Founder and CEO of Workstreamer
Austin, TX (PRWEB) May 11, 2010
Workstreame r, a business listening platform delivering a real-time information advantage to business professionals, today announced the availability of its Information Advantage Partner On Ramp. The new partner program provides a fundamentally new and more efficient method for business information and content providers to deliver their content/data feeds within the Workstreamer Business Listening Platform.
The On Ramp program creates a new opportunity for content and information providers to deliver business relevant content to the fast growing workstreamer community.
For millions of business professionals, high quality business-relevant content is the key driver of sales, efficiency, and competitive advantage. Unfortunately, with the explosion of information being created each day it is difficult to stay current and competitive. Too few business professionals have a solution to stay knowledgeable on information concerning prospects, customers, partners and clients. Workstreamer's Information Advantage Partner On Ramp enhances the value and availability of comprehensive business content to all professionals.
Workstreamer's proprietary technology intelligently detects, analyzes, filters and delivers only business relevant information. This enables workstreamer to provide a steady flow of actionable information to users from sources ranging from news, blogs, published articles, LinkedIn, Twitter and beyond. Professionals and executives can then leverage that intelligent information into real decisions and hence results for their businesses.
"The value of this new program to our partners is that it is easier to place their content in front of our growing community," said Hank Weghorst, Co-Founder and CEO of workstreamer. "Our users will then in turn benefit from the increased breadth and quality of content being delivered."
Workstreamer's sophisticated business listening solution enables business professionals to start listening through an intuitive web interface and daily e-mail digest.
Examples of information delivered within workstreamer include:

Blogs, News and Published articles that scored high for business context and relevance
Business Tone Cloud for Twitter including top Tweets and top linked Tweets for the day
Proactive alerts of Jigsaw contacts added for a users' companies or accounts
LinkedIn network additions to a users' network in context of each of the users companies or accounts
Salesforce.com system account activity
Becoming a workstreamer Information Advantage Partner is simple through the following steps:
1. Visit http://www.workstreamer.com/partners
2. Create a profile
3. Workstreamer then evaluates partners across a number of dimensions for inclusion as a content source
4. Once content is evaluated, partners will be notified within 30 days
5. When approved, the content is then put on a roadmap to be included in the platform either as a default or user selectable content type
About Workstreamer
Workstreamer is a real-time business listening platform, tailored for business professionals looking to stay informed, relevant and competitive. With its one-click business listening platform, professionals begin listening to customers, prospects, competitors, partners and vendors immediately. Workstreamer adds a layer on top of the social Web, providing significant business intelligence across content from published articles, news, blogs, Twitter, LinkedIn, Jigsaw, Facebook and beyond. The company was founded in 2009 by Hank Weghorst and Suaad Sait. It is seed funded by Austin Ventures and headquartered in Austin, TX.
For more information on workstreamer, http://workstreamer.com/.
# # #