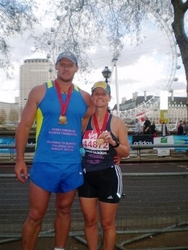 It will challenge you and take you out of your comfort zone – but try to stay in the country in the lead-up, and definitely do not do it without training!
(PRWeb UK) May 11, 2010
Kevin Gibbons, Business Development Manager at local healthcare recruiter HCL plc, beat air delays caused by the volcanic ash cloud to complete the London Marathon and raised over £2,000 for the Essex Disabled Sports Foundation – despite not having any time for training due to a previously booked holiday.
Essex based Kevin (42) and his wife, Karen (38), a local head teacher, agreed to take part in the Marathon just last month after a friend asked them if they wanted the two vacant spots that had opened up with the charity, which provides opportunities for disabled children in Essex to participate in sport. He was immediately pledged £1,000 by Kate Bleasdale, Executive Vice Chair of HCL plc and former London Marathon finisher, whose large Loughton office provides healthcare professionals for the NHS and private sector.
But Kevin's charitable ambition turned into a desperate dash against the volcanic ash from Iceland, which left them both trapped in Cuba a week before the Marathon was due to start. Luckily the airline they were travelling with found two spare seats at the last minute which landed him back in the UK just three days before the Marathon – with no time for training and nursing a knee injury picked up playing rugby a week after agreeing to take part.
Despite the odds stacked against him, Kevin was determined to do justice to the Essex Disabled Sports Foundation and his sponsors – and with Karen running alongside him, managed to complete the Marathon without ever stopping or slowing to a walk.
Kevin explains his extraordinary physical feat:
"It was pure pig-headed stubbornness that got me through – completely focussed on putting one foot in front of the other. The crowd lining the route was also fantastic and really lifted me.
"My wife runs, but so many people said I wouldn't finish due to the total lack of preparation as most Marathon runners train for at least six months and even then many of them don't manage it without stopping or walking for some parts. So I thought I'd prove them wrong and raise some much needed funds for the kids even though the most I've run in the last 20 years has been about 10km non stop."
He adds: "But my biggest motivation was that we did not want to let the charity down – it's a great local foundation which helps instill hope and confidence in so many youngsters, and their positivity and zest for life spurred me on. Plus, the Marathon took place on Anzac Day*, which is a big deal for us New Zealanders & Australians – so between that and the charity I was determined to keep running for the entire 42km, and crossing the finishing line felt like an awesome achievement."
Kevin - who last year competed in Tough Guy, the UK's biggest competitive assault course event – said this was much tougher and has firm advice for other would-be last minute Marathon runners: "It will challenge you and take you out of your comfort zone – but try to stay in the country in the lead-up, and definitely do not do it without training!"

Anzac Day is a national day of remembrance in Australia and New Zealand, and is commemorated by both countries on 25 April every year to honour members of the Australian and New Zealand Army Corps (ANZAC) who fought at Gallipoli in Turkey during World War I.
Ends
About HCL plc
HCL plc is one of the UK's leading health and social care staffing companies. With its main offices in London, Loughton and Skipton, HCL provides doctors of all grades and specialties, allied health professionals, specialist nurses and qualified social workers to the NHS and private sector organisations worldwide. Recruiting across 65 countries, HCL has offices and operations in the UK, the Middle East, North America, Canada and Australia. HCL plc is listed on the Alternative Investment Market of the London Stock Exchange.
Follow us on Twitter http://twitter.com/HCLplc
Become a fan on Facebook http://bit.ly/HCLFacebook
Join us on LinkedIn http://bit.ly/HCLlinkedin
###