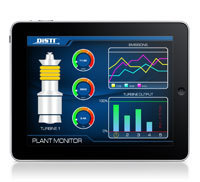 Realizing support for the iDevices is a breakthrough for the usability and portability of GL Studio.
Orlando, FL (PRWEB) May 11, 2010
DiSTI, a global leader in Empowering the Human Machine Interface (HMI), has announced the availability of iPod Touch, iPhone and iPad (iDevices) support for GL Studio's Safety Critical Embedded C++ (SCEC++) run-time library. This new expansion of capability enables users to rapidly create high performance interface graphic designs on these small hand-held devices.
DiSTI's GL Studio toolkit is known for its ability to create cross-platform interface content that supports the complete lifecycle of a product base. This announcement furthers the usability of interface content beyond a developer's initial conceptions. The Simulation & Training industry will have the capability to create hand-held portable Instructor Operator Stations (IOS) while ground station repeaters will provide portable convenience to the Unmanned Vehicle industry. Further portability is realized through remote patient monitoring in the Medical community, portable plant diagnostics in the Power Generation community and the opportunity for low cost electronic kneeboards for the Aviation industry.
"The initial reception we've had from our current customer base has been phenomenal," said Scott Ariotti, Sales & Marketing Director for DiSTI. "Every time we disclosed this new capability, you could see the gears turning in their minds. They've been thinking about this kind of capability for some time. Now, they have a proven and reliable tool chain to realize their visions."
The GL Studio SCEC++ run-time library provides an unrivaled solution for embedded display portability. With strict operating system abstraction, efficient 2D/3D rendering capabilities, and expandable support to allow use of custom OpenGL shaders; GL Studio's SCEC++ run-time delivers an extremely optimized platform for executing high fidelity digital human machine interfaces.
Validating DiSTI's claim for extreme run-time portability, engineers successfully executed GL Studio content on the iPod Touch within two short hours of confirming embedded support for OpenGL ES 1.1 and 2.0. The C++ code generated by the GL Studio embedded code generator works seamlessly in Apple's X Code development system, allowing easy deployment on iPhone, iPod and iPad.
For a limited time, the Safety Critical Embedded Run-time Library for iDevices will be included free of charge on all existing and newly purchased GL Studio SCEC++ code generator licenses. In addition, GL Studio interface content can be distributed on any iDevice platform royalty free.
"Realizing support for the iDevices is a breakthrough for the usability and portability of GL Studio," said DiSTI Chief Technology Officer Darren Humphrey. "Our customers rely on us for high quality, efficient tools and now these award-winning solutions are accessible to them at any time."
DiSTI will host a live webinar on May 26, 2010 at 11 a.m. EST to showcase the development process. Registration for the webinar is free. Interested parties can read more details on DiSTI's web site at http://www.disti.com/iDevices.
About DiSTI:
DiSTI is a global leader in the development of Human Machine Interface software for businesses, governments and the military. The company's flagship product, GL Studio, enables programmers and developers to build high-fidelity graphics, 3D simulations and fully interactive controls into their models, enhancing the level of realism and sophistication, while improving learning and retention.
More than 400 customers worldwide, including BAE, Boeing, Dassault, FedEx, Lockheed Martin, Honeywell, Raytheon and Thales, use DiSTI solutions to build maintenance trainers, create PC and Internet-based courseware and to develop components for safety-critical applications. As a full service provider, DiSTI offers a complement of customer programming and development services, and is the recognized leader in training solutions for the global simulation and training community. For more information, visit http://www.disti.com.
###