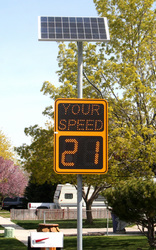 I've stood near the signs and watched speeds reduce once the driver reads the signs and realizes how fast they are driving.
Spring Valley, NY (PRWEB) May 12, 2010
At Fletcher Allen Health Care's Medical Center Campus in Burlington, Vermont, physicians, nurses, and staff work daily to heal patients. At this nationally recognized medical center that serves Vermont and northern New York, the safety of pedestrians and drivers is also of primary concern.
Fletcher Allen is in the midst of a large construction project at their Medical Center Campus. The entrance to the construction site is near a dangerous curve, with visibility impaired for approaching cars. Traffic control was needed in this area to calm traffic and protect motorists and pedestrians.
Jack Conry, the Director of Security at Fletcher Allen, made the decision to purchase two radar signs for the roadways approaching the Medical Center Campus construction site. He has seen radar signs used effectively to control traffic in several locations on public roadways. Thinking these signs would be effective in slowing traffic and helping people reach the facility safely, he began surfing the web in search of a well designed sign.
After researching several alternatives, Mr. Conry chose the Traffic Logix radar speed signs equipped with solar power. In addition to being "green" the solar panel eliminated the need to run electrical power to the signs, so that installation was much quicker and easier. The signs also were highly visible from a distance and in poor lighting conditions, an important feature for the area.
The first sign was installed on Beaumont Drive, a heavily traveled road to the south of the Medical Center Campus that brings in about seventy percent of the organization's traffic. The second sign was installed on Mary Fletcher Drive, located on the north side of campus. The sign was installed about 100 yards from the crosswalk that connects a staff parking lot to a staff entrance. The radar signs help to slow traffic in both locations.
"The radar signs are great," commented Mr. Conry. "I've stood near the signs and watched speeds reduce once the driver reads the signs and realizes how fast they are driving."
The radar signs alert motorists to their speeds, causing them to slow down and drive more carefully. Programmed to flash when motorists exceed the speed you choose, the signs are an excellent way to control traffic.
Traffic Logix solutions have been installed at several other medical facilities in the Northeast, including Washington Adventist Hospital in Maryland. At Adventist Hospital, administrators were looking to address speeding issues on the hospital property.
William Hentosh, the Chief of Security and Director of Emergency Preparedness at Adventist, commented, "We put the (Traffic Logix) speed humps on our main access road where patients and staff were crossing to get to other medical buildings. It has been quite effective in lowering speeds."
While clinical staff at these hospitals work to save lives every day, support staff work to provide a safe environment for all patients, visitors, and staff. Traffic Logix solutions help ensure that everyone arrives and departs safely each day.
###