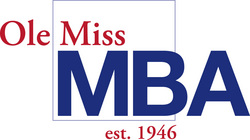 "Our graduates go on to lead successful careers and this award is indicative of the quality and affordability of the program. We encourage success-oriented individuals to join us and see what a real value our degree is." Dean Ken Cyree
Oxford, Miss. (PRWEB) May 13, 2010
The online Master of Business Administration program at the University of Mississippi has been objectively ranked a "Best Buy" by GetEducated.com's national editorial review team.
The program, accredited by the Association to Advance Collegiate Schools of Business, was ranked 13th out of 133 competing online MBAs nationwide in the national survey. Mississippi State University was ranked 20th. The award designation indicates the university offers a high-quality distance MBA to a national audience at a cost well below the $32,926 national average.
"To be recognized nationally as a great value is an honor," said Bethany Cooper, director of corporate relations and MBA services. "We hope this recognition attracts students from around the country who may not have thought of the University of Mississippi otherwise."
The 36-semester-hour MBA program is entirely online and taught by top research faculty with the flexibility to meet working professionals' needs. Students may enter in the spring, summer or fall. Mississippi residents pay just over $12,500 for the program, while nonresidents pay just under $23,500.
By comparison, the least expensive distance MBA, at Southeast Missouri State University, costs between $8,234 and $14,174. The most expensive, from Duke University, costs about $119,000.
"We are pleased that GetEducated.com has recognized our MBA program," said Ken Cyree, dean of the School of Business Administration. "Our graduates go on to lead successful careers and this award is indicative of the quality and affordability of the program. We encourage success-oriented individuals to join us and see what a real value our degree is."
Founded in 1989, GetEducated.com is a consumer group that reviews and ranks online university programs using criteria of cost, quality and credibility. The group then provides data to the public as a service to help students locate high-quality, low-cost online education options. Almost a million online learners visit the site annually seeking advice on which of the 406 online MBA degrees reviewed best meet their needs.
"Cost is the No. 1 factor that keeps working Americans from enrolling in higher education," said GetEducated.com founder Vicky Phillips. "The University of Mississippi offers residents a chance at a high-quality graduate business degree through distance learning at less than half the cost of the national average. That's an amazing value, and we are pleased to spotlight such a Best Buy in these hard economic times."
The complete Best Buy MBA ACCSB affordability rankings can be viewed at http://www.geteducated.com/online-college-ratings-and-rankings/best-buy-lists/best-buy-online-masters-mba-aacsb .
For more information about the UM School of Business Administration, visit olemissbusiness.com/mba
###