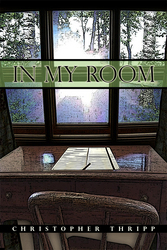 Pittsburgh, PA (Vocus) May 12, 2010
In My Room, a new book by Christopher Thripp, has been released by RoseDog Books.
A note from the author: "This collection of works did not originate with thoughts of a book. It began as a journey into self.
"I wasn't there at the beginning of this journey. I have, however, had the honor of being there for the growth. I've seen and heard the depth of the pain and the soaring joy. I've heard the words 'Where did that come from?' so often and heard the awe as realization dawned. These works will be interpreted in unique ways by each of us as we read. My hope is, as you read this collection, you will be inspired, gain insight into yourself, and find the humor as I have. Most importantly, I hope you will see the growth and talent of this gifted poet.
"I was born in England in 1963, the eldest child of Charles and Sheila Thripp. They gave me the sense of family and the morals I live by today.
"I have been writing poetry for thirty years and have discarded most of it. I used it as therapy, only a way to get things off my chest. My friends finally persuaded me to air my work for public viewing. They thought I had great talent. I thought they were delusional! Well, here I am. Out in the open. No more am I 'in my room.' I hope you enjoy my work and feel very privileged to offer it. Above all, folks, I just love to write! "
In My Room is a 38-page paperback with a retail price of $9.00. The ISBN is 978-1-4349-9568-1. It was published by RoseDog Books of Pittsburgh, Pennsylvania. For more information or to request a review copy, please visit our virtual pressroom at http://www.rosedog.com/pressroom or our online bookstore at http://www.rosedogbookstore.com.
###