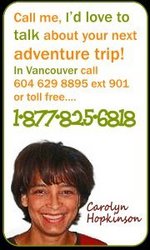 Vietnam, Laos or Cambodia would be great alternatives for clients looking to stay in Asia.
(PRWEB) May 12, 2010
Thailand is one of the world's great destinations for travellers looking for adventure so when Thailand's Prime Minister Abhisit Vejjajiva declared a state of emergency in April, travel agents and tour companies around the globe were scrambling to ensure the safety of their clients and friends.
One such travel agent was Carolyn Hopkinson, owner and manager of Mondo Adventure Travel based in Vancouver, Canada. "We are all very surprised by what is going on in Thailand at the moment. It is normally such a peaceful country," commented Ms. Hopkinson. "Our greatest priority is the safety of our clients so we're definitely keeping a close eye on what is happening there."
While Canada and Britain have lifted their warnings against travel to Thailand, the United States and Australia have not yet done so. However the Canadian government still has a regional warning in effect for Bangkok.
Tourism accounts for 6% of Thailand's economy, and while it is too early to determine what effect the 30% drop in passengers arriving at Bangkok airport in April will have on Thailand this year, it is believed it will be quite substantial.
"Business is one thing but we're more concerned about making sure our travellers are safe," said Hopkinson. "We've confirmed that all of our clients are accounted for and have not been affected by the situation in Thailand. We are encouraging any clients who were planning on travelling to Thailand in the very near future to consider other destinations and we're doing everything in our power to make those options available."
Thailand's jungle and elephant tours are very popular and also very unique. When asked to suggest alternative destinations, Hopkinson replied, "Vietnam, Laos or Cambodia would be great alternatives for clients looking to stay in Asia."
Hopkinson tends to keep an even perspective on abnormal situations like the unrest in Thailand. "We send people all over the world and there are always things happening that affect some or all of us."
The most important thing is keeping people safe – both tourists and in this case, the Thai people. We will always do our best to accommodate our clients, keep them safe and make their adventures enjoyable. We just hope that this situation will resolve itself before any more unnecessary casualties occur."
At this point in time, it is unknown how long the situation in Thailand will remain on heightened status but until it is resolved, travellers should be advised to make alternative plans.
Carolyn Hopkinson is the owner of Mondo Adventure Travel in Vancouver, British Columbia. Carolyn has been in the travel business for over three decades and is recognized as a leader in the industry. She and her team offer personalized service and great deals on worldwide adventure travel. Carolyn can be reached at 1-877-825-6818 ext 901.
Contact:
Carolyn Hopkinson
3594 West 17th Avenue
Vancouver, BC Canada
V6S 1A1
1-877-825-6818
1-604-629-8895
###