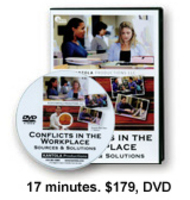 Mill Valley, CA (PRWEB) May 17, 2010
Kantola Productions LLC has released the new DVD "Conflicts in the Workplace: Sources & Solutions" and companion Study Guide. Available in English and Spanish versions, it is one of the latest in Kantola's library of over 125 training programs.
Conflicts are a part of life. But conflicts in the workplace don't have to be destructive. In fact, constructive disagreement can add value, as employees compromise and reach better decisions based on input from others.
The dramatic-format training video will teach your employees these solutions:

Responding with empathy
Active listening
Setting a limit
Finding something to agree with
Using "I" language instead of "You" language
Disengaging to cool off
Appealing to mutual self-interest
Attacking the problem, not the person.
Preview three short "Conflicts in the Workplace" video clips at Kantola Productions. Streaming licenses available.
Kantola Productions has offered quality video training on management, communication, customer service, harassment and diversity, human resources, health and safety, and computer training since 1985. It has won national video training awards, including the Telly, the Cine Golden Eagle, and the National Education in Media Network Silver Apple.
# #