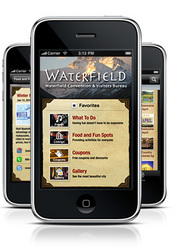 Dallas, TX (PRWEB) May 12, 2010
New Media Gateway is proud to announce the launch of their new industry specific iPhone application for Destination Marketing Organizations using Website Content Management systems.
Now DMOs such as resorts, convention & visitors bureau's, and even tourism boards can offer their clients and visitors an iPhone application that will provide them with local listings, promotional tools, third party integration and visitor analytics. By providing content through a mobile application that has the ability to integrate with existing Web Content Management solutions, DMOs can offer the latest travel and destination information effortlessly and efficiently.
In addition to being completely customizable to any destinations brands standards, other key features of the New Media Gateway iPhone app include the ability for all travel related content to be placed in the pocket of the visitors such as information on dining, shopping, hotels, tours, traffic, weather, movies, theaters, clubs, transportation, news, events and much more. The iPhone app also allows visitors to easily view images and videos related to the destination, giving their visitors a real life glimpse of what they will experience.
DMOs can significantly increase their mobile ROI by including promotional pulls such as coupons and push notification messages that are redeemable on the spot based on a visitor's location. They can also utilize visitor analytics and tracking information to keep tags on valuable visitor patterns to help drive marketing initiatives.
The NMG iPhone application is now available for purchase and can be installed in just a matter of days. To learn more about the New Media Gateway iPhone app., please visit our website at http://hospitality.newmediagateway.com/hospitality-software/iphone-application
About New Media Gateway, Inc.
New Media Gateway, Inc. is the leader in providing the most sophisticated and comprehensive digital marketing solutions in North America to the most innovative destination marketing organizations, helping them to expand their brand, drive more visitors, exceed member expectations and increase productivity with its suite of on-demand products and interactive services built specifically to increase meeting, convention, and leisure traveler business.
# # #