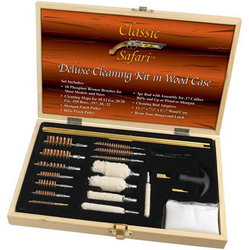 A gun cleaning kit is essential to having a safe time and an effective hunt.
Waxhaw, NC (PRWEB) May 13, 2010
What to look for in a gun cleaning kit.
A gun cleaning kit is essential to having a safe time and an effective hunt. A clean gun, even a shotgun, will be more accurate when cleaned. A clean gun will be less likely to jam or misfire. Every year 900 hunters across the US are wounded or killed during the regular hunting season.
Gun safety cannot be over emphasized. Every hunter should be familiar with his firearm and its use, to include training and regular practice. Local gun shops and shooting ranges will be able to provide either or both. Firearms should be stored in a gun sleeve or cover, and then within a gun safe. A gun safe protects against burglary and protects emergency response personele should the building catch fire and the guns discharge from the heat. Finally, never hunt alone.
There are a great many articles on hunting safety already available for free online.
Completeness : A complete gun cleaning kit should have no fewer than 15 components depending upon how things are configured. It should include both wire and nylon brushes, and barrel mops. Rods and handles should be included. Gun oil and solvents should not be included due to the possibility of leaking.
When out in the field, having a complete gun kit can mean having a clean gun for the entire hunting party. Should one hunter need a clean rifle, a complete kit will have the proper fittings to clean a companion's firearm.
Portability : A gun cleaning kit that you can take into the field is essential. There are a million ways for debris to enter the barrel of a rifle or pistol, and it must be protected from damage and debris until needed. Two kits should not be necessary, what can be used in the field can be used in the home.
Price : A cheap gun kit would be questionable in any circumstances. On the other hand, it should not be a financial hardship if the gun cleaning kit were to fall out of a canoe and be lost.
Realistically a gun cleaning kit is a set of tools which wear out with use like any other object and should not be considered an heirloom. An inherited gun cleaning kit should be discarded.
Quality : The science of cleaning guns is now centuries old, and suitable materials for making a dirty gun into a clean one is not a huge variable. Wire brushes should be of brass, and softer than the steel of a barrel to avoid scratching. Rods should also be of brass, fiberglass, or bamboo. Wood doweling as an entirely acceptable alternative. Gun mops should be soft, and preferably of cotton.
Convenience : A good gun cleaning kit should not be so clever that pieces fit within one another. Once it is open, pieces should be accessible to both remove and replace. Rods should be quick to securely connect and disconnect.
Having a good gun cleaning kit will be the best addition to any hunting expedition… for the peace of mind and confidence it offers.
###