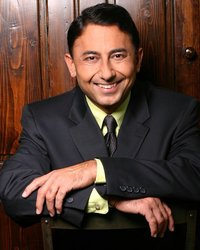 Butch, you got a cataract in your eye.
Beverly Hills, CA (Vocus) May 12, 2010
As Butch Patrick was driving on a rainy evening in Beverly Hills he found it difficult to see the road signs and found the headlights of cars bothering his eyes more than usual. He even had difficulty reading the cue cards,and in spite of his reading glasses and bright lights found it difficult to read the menu at the Stinking Rose. While admiring paintings he felt that the colors appear washed. He decided to see Beverly Hills Cataract specialist Dr. Khanna. After a thorough exam Dr. Khanna said, "Butch, you got a cataract in your eye." The munster had a munster in his eye.
In normal eyes the natural lens would be clear and be able to change it's shape while allowing all the light to pass.But When a person develops cataracts the fibers of the lens become too numerous and accumulate too much water. The lens becomes more rigid and hazy. The good news is patients no longer have to wait for the cataract to become white or mature. Today, patients are scheduled for surgery when the cataract starts to affect activities like driving, working, or reading. Dr. Khanna than proceeded to measure the shape and the length of the eye to calculate the exact power of the lens needed for for forthcoming cataract surgery. The latest and most accurate method in measuring the length of the eye is the IOl master, which was used to measure Butch's eye.
Dr. Rajesh Khanna, is a Los Angeles Cataract and Refractive Cataract surgeon with offices in Los Angeles and Beverly Hills. He is the founder and medical director of The Khanna Institute of Lasik and Refractive Surgery. Dr. Khanna has been voted as the best LASIK surgeon by popular choice by readers of Los Angeles daily news and Ventura County Star. Dr. Khanna has performed vision enhancements on many celebrities and athletes alike. Those we are able disclose include actor Corbin Blue from High School Musical, Disney channel star Brenda Song, Olympic silver medalist Ryan Bailey and Bas Rutten- Inside MMA host and UFC champion fighter. Rajesh Khanna, MD has been featured on the front cover of various magazines like Your Health Connection, Life after 50, Valley news and Beverly Hills times. He has also been featured in Santa Monica Star, Acorn, India West, Opinion Express and numerous other publications. Dr. Khanna has been interviewed and quoted by various radio talk. He is one the pioneers of Lasik eye surgery and is currently at the forefront for advanced eye procedures. He is an experienced and skilled Wave front LASIK, Intacs, PRELEX and cataract surgeon, Dr.Khanna has performed over thousands of vision correction procedures.
Contact: Kelly Schneider
Rajesh Khanna, MD Khanna Institute of Lasik Surgery
50 N La Cienega Blvd
Beverly Hills 90211
Phone: 805-230-2126
Fax: 805-230-2199 http://www.khannainstitute.com
###