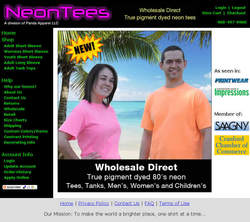 As a retailer and screen printer with a specialty in neon shirts, we saw a gap in the market for blank neon garments
Cranford, NJ (Vocus) May 12, 2010
The economic outlook might still be shades of gray, but bright with a capital B is always on top of the fashion trends. Panda Apparel is filling a market gap for screen printers and apparel decorators with the launch of a new line of blank garments. With bright neon colored t-shirts and tanks for men, women and children, apparel decorators will have an exciting new offering for their customers.
"As a retailer and screen printer with a specialty in neon shirts, we saw a gap in the market for blank neon garments," says Scott Marino, president of Panda Apparel. "We had screen printers calling us from our retail site, JustNeonTees.com, looking for blanks including men's tanks, women's styling and youth sizes." The new line of neon tees from Panda Apparel creates guaranteed success with two things that never go out of style: t-shirts and bright colors.
Offering high quality, 100% cotton t-shirts, garment dyed in the USA with true neon pigments in neon green, neon orange, neon pink, neon yellow and neon blue. "There are bright shirts, and then there are true pigment dyed neon's. We offer real neon's, just like in the 80's," says Donna Marino, co-owner of Panda Apparel. "Our all-cotton t-shirts are comfortable, fun and perfect for everyone. Individuals love them, as do schools, organizations and company teams."
Fashionistas around the world have proclaimed that the color they love is Neon and it's everywhere, from the Paris runways and collections of major designers to the most trendy neighborhoods across America. Popular fashion blogger FabSugar, who has listed neon as one of her obsessions, says, "Embrace the bright, bright, and more bright."
In addition, Panda Apparel has launched a new website, NeonTees.com to service wholesale customers. The site offers 24/7 ordering, real-time inventory, order tracking, decorating tips and more. Wholesale direct pricing is limited to screen printers, decorators and resellers. Groups, organizations and individuals can purchase through JustNeonTees.com, a retail based site for the general public.
About the Company:
NeonTees and JustNeonTees are divisions of Panda Apparel LLC which carry high quality, 100% cotton fun neon t-shirts. NeonTees.com services wholesale trade accounts. JustNeonTees.com is focused on the retail aspect, offering printed graphic designs and screen printing for small groups and organizations. The mission: to make the world a brighter place, one shirt at a time.
Panda Apparel, LLC was formed in 2007 and is owned and operated by Scott and Donna Marino. The two share over 20 years of experience in the apparel industry and 12 years of online specialty retailing. All of the company's divisions are committed to protecting and preserving the environment. As an international business, Panda Apparel, LLC is committed to the improvement of the worldwide state of human rights and environmental degradation.
###