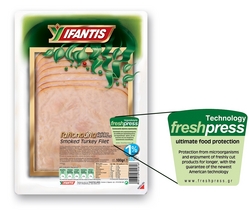 Every day we try to be innovative to differentiate ourselves and our products. This technology matches perfectly with our philosophy
Frankfurt, Germany (PRWEB) May 12, 2010
Any food company whose commercials feature Gummy the Dancing Bear, a cartoon figure that has become a pop sensation among youngsters, knows how important it is to put wholesomeness and product safety at the top of the priority list. Ifantis, a major Greek producer of fresh-cut meats and deli salads, has taken its commitment to food safety to a higher level with the debut of its FreshPress product line.
Ifantis' FreshPress products undergo the lethality treatment known as high pressure processing (HPP), the advanced technology pioneered by Avure Technologies. By subjecting food products to ultra high pressure after packaging, Avure's high-throughput HPP systems disable food borne pathogens and bacteria that cause spoilage.
"HPP keeps us one step ahead," remarks Kostantinos Ifantis, CEO of the company that was founded in 1979 under his family name. "Consumers, now more than ever, care about food safety." At the same time, they are asking processors for products with fewer or no preservatives, he continues. Partnering with Avure to develop the FreshPress label allowed Ifantis to address both concerns. It has also had a favorable impact on the bottom line: since the installation of the HPP system and the launch of the new brand last year, Ifantis' sales of sliced meats are up more than 30 percent.
Headquartered in Athens, Greece, the Ifantis Group operates several manufacturing facilities and a dozen distribution centers throughout the country. The organization has grown to include five business segments producing more than 500 different products that appear almost daily on the family dinner table, from deli meats and Greek traditional salads to frozen food (hamburgers, pizzas, etc.), bakery products, and fresh pasta.
The company's commitment to high quality across all product categories is illustrated by its motto, "In choosing Ifantis, you choose quality." However, a fickle cold chain throughout the dispersed islands of its home country was creating a distribution challenge for its sliced meat products.
"Returns were high, and we needed additional shelf-life," relates CEO Ifantis. "We also needed additional protection beyond chemical additives to enhance food safety."
It was the processor's belief in embracing innovation that brought it to HPP. Implemented after packaging as the last step in production, HPP eradicates most potential pathogens before products leave the plant. Ifantis quickly recognized that the advanced technology could accomplish his key objectives: decreasing spoilage and extending shelf-life, while meeting customers' demand for preservative-free products.
"Every day we try to be innovative to differentiate ourselves and our products. This technology matches perfectly with our philosophy," he observes.
A cooperative relationship between Avure and the food processor was instrumental in launching the new brand. In addition to assisting with product reformulations and regulatory approval, Avure collaborated on the FreshPress logo program and advertising campaign to demonstrate the benefits of HPP to the consumer.
"At Avure our goal is to ensure the success of our customers' products in the market," commented Matt Rutherford, Sr. Vice President of Global Sales for Avure. "We work closely with them to help with product formulation, packaging, HACCP and regulatory approval, supply industry leading price/performance equipment and assistance with launching new HPP products both at the retailer and consumer level. We are very pleased with the success of the FreshPress product line."
The FreshPress product line currently encompasses more than half a dozen luncheon meats, from smoked pork loin and mortadella to smoked turkey filet and dry salami. The packages are clearly distinguished by the new FreshPress label, which announces "ultimate food protection" from "the newest American technology." The label also refers consumers to a web site, http://www.freshpress.gr , where they can watch a video of an Avure HPP system at work in Ifantis' state-of-the-art facility in Athens, Greece.
With sales up, returns due to cold chain issues down to almost zero, and extended shelf-life increasing distribution opportunities, the FreshPress label will soon be appearing on even more Ifantis products.
"We are developing a line of deli salads that will be made safer with a longer shelf-life using HPP as well," says Ifantis. "Our goal is to provide an extra degree of protection to our products while maintaining their taste and nutritional quality."
As the FreshPress product family continues to grow, and the company expands into new geographic markets, the CEO knows that the new brand is built on a solid foundation, from both a technical and marketing perspective. "Our products are the safest we can make," he comments. "HPP and Avure give us the edge that is important to both consumers and retailers alike."
About HPP
High pressure processing for food is recognized by governmental agencies around the world as a highly effective listericidal process. In contrast to chemical additives that only stabilize existing levels of contaminants, such as the effect of sodium diacetate on Listeria, HPP actually disables pathogens and bacteria such as Listeria, E.coli, and Salmonella, making it the food safety measure of choice among major food processors in North America and throughout Europe.
"High pressure processing has been used very effectively for years by leading processors globally," comments Pat Adams, Avure Technologies CEO. In the U.S., deli meats and ready meals are common applications. Other categories that achieve the safety and extended shelf-life benefits of HPP are: fresh-cut fruits and vegetables, juices, deli salads, condiments, sauces and dressings, guacamole and salsa products, and seafood, including shellfish and crustaceans.
About Ifantis
Since its founding in 1979, the Ifantis Group has emphasized respect for the consumer and excellent product quality as core values. Headquartered in Athens, Greece, the company also maintains manufacturing facilities in Moschato, Lamia, and Alexandroupolis, and in Romania and Moldavia. The organization has grown to include five business segments producing more than 500 different products that appear almost daily on the family dinner table, from deli meats and Greek traditional salads to frozen food (hamburgers, pizzas, etc.),bakery products, and fresh pasta.
About Avure Technologies Inc.
Avure, the global leader in HPP technology, offers total solutions to keep food pathogen-free and fresh longer–from recipe development to installation of the fastest, most reliable high pressure presses in the world. HPP significantly extends product shelf-life while preserving and enhancing natural flavors, colors, taste, and texture. Avure's headquarters are in Kent, Washington, near Seattle, with equipment design, manufacturing, and support operations in Vasteras, Sweden; Columbus, Ohio; and regional sales and support operations globally. For more information, visit http://www.avure.com/food/product/100L.
# # #