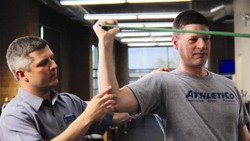 Our injury screenings are a great way for individuals to become educated on injuries they aren't sure what to do about.
Oak Brook, IL (Vocus) May 13, 2010
AthletiCo, a Midwest provider of physical therapy, occupational therapy, and fitness services, offers complimentary injury screenings at all 55 AthletiCo physical therapy centers located throughout Illinois and Milwaukee. The screenings offer a wellness-based approach to providing individuals the opportunity to have their injury assessed by a licensed medical professional at no charge.
During each injury screening, which last approximate 30 minutes, a licensed physical or occupational therapist or athletic trainer will examine strength, range of motion, and flexibility in order to help guide medical options. Following the screening, handouts for stretches or exercises may be given to manage symptoms, or it may be recommended that an individual follow up with a physician or other health professional for further examination. An individual will also receive education on how to care for his or her injury.
AthletiCo's president and founder, Mark Kaufman, believes that education is an important step in understanding if further injury can be prevented with proper stretching and exercise or if it's necessary to consult a physician.
"As we are always looking for ways we can support our communities, we feel these screenings offer a great opportunity to open our doors so that our neighbors have access to the health system," says Kaufman. "They can be educated and receive early intervention so that what may be a minor injury or affliction does not become worse due to lack of access. Our injury screenings are a great way for individuals to become educated on injuries they aren't sure what to do about."
AthletiCo has strong physician relationships throughout Illinois and Milwaukee and is able to refer patients to appropriate doctors in a timely manner and provide follow-up with both physicians and patients in regards to injury progress.
AthletiCo's complimentary injury screenings offer:

Examination by a licensed medical professional
Convenient FREE care and easy scheduling
Personal attention to an individual's health
Education of potential injury
Injury care plan or physician referral, if needed
Peace of mind
Injury screenings are available by appointment only and will be scheduled within 24-48 hours of initial call. For more information or to schedule a free screening at a convenient AthletiCo location near you, visit our website at http://www.athletico.com or call our injury hotline at 1-877-ATHLETICO.
ABOUT ATHLETICO
Since 1991, AthletiCo has been the proud provider of rehabilitation, fitness, and performance services to many professional teams, performing arts companies, endurance programs, golf associations, volleyball clubs, high schools, colleges, and events in Chicagoland and Central Illinois. AthletiCo's first Wisconsin location opened in Milwaukee in December 2009.
AthletiCo provides orthopedic rehabilitation including physical and occupational therapy, work rehabilitation, performing arts rehabilitation, women's health therapy, spine control, pediatric physical therapy, vestibular rehabilitation, and athletic training/sports medicine. Expanded services include performance enhancement, fitness center memberships, golf fitness, endurance, nutrition, and massage therapy.
AthletiCo accepts all indemnity, PPO, POS, and WC plans including BC/BS, Humana, Medicare, Aetna (PPO/HMO), PHCS, UHC (PPO.HMO) and many others. As a courtesy to our patients, we verify insurance coverage.
AthletiCo Toll-Free Injury Hotline 877-ATHLETICO (1-877-284-5384)
http://www.athletico.com