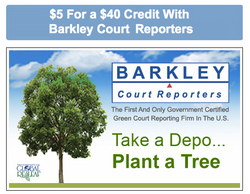 Now attorneys can take advantage of the cost savings that comes with group buying.
San Francisco, CA (PRWEB) May 13, 2010
GroupESQ is proud to announce the launch of the first group buying website for attorneys. GroupESQ is an online platform that allows companies to sell products and services to large groups of attorneys at volume-based prices.
"Group buying sites for consumers are fast on the rise, most notably Groupon," says CEO Steven Choi. "And for good reason. Everyone loves a great deal. Now attorneys can take advantage of the cost savings that comes with group buying."
GroupESQ has launched their service with companies offering the following services:

Court Reporting Services.
Contract Attorney Services.
Trial Graphics Services.
Continuing Legal Education.
Process Serving.
One great deal comes from MCLEZ.com, an online provider of Continuing Legal Education (CLE) seminars. For just $49, attorneys from California or New York can satisfy all of their CLE requirements. This is a 50% savings off of MCLEZ's already low rates. The catch is that there must be at least 35 buyers.
How It Works
Companies custom design their deals by deciding what to sell, how much to charge and how many buyers they want. GroupESQ then presents their offer to many thousands of attorneys. If the deal goes through, the company is charged a small negotiable commission. If the deal doesn't go through, there is no charge. Any company interested in being featured on GroupESQ should visit our Company Information page.
If an attorney sees a deal she likes, she places a purchase order. She's not charged unless and until the deal closes with the required minimum number of buyers. If the deal closes successfully, then she can download a credit voucher for immediate use. If the deal does not close with the required number of buyers, the deal is off and no one is charged.
"It's a win-win for everyone," says Steven Choi. "Attorneys get low prices. Companies get lots of new clients without the high cost of marketing."
GroupESQ is the sister site of LawLink, the first social network for the legal community with over 8,000 members nationwide and over 150,000 unique visitors every month.
Contact Information:
For more information, contact Steven Choi at info(at)groupesq(dot)com or call 1.888.400.2464.
http://www.groupesq.com .
###