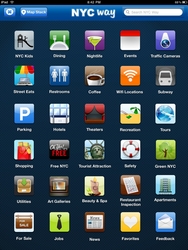 Watch while we transform the world one city at a time! Your Cities, Your way on MyCityWay!
New York, NY (PRWEB) May 13, 2010
MyCityWay (http://www.MyCityWay.com) is here to revolutionize the way people live, work, play and visit in cities around the world!
Named Top 5 Travel App for 2010 by major publications, MyCityWay is a location-aware guidebook soon to be available in over 40 cities around the world on a variety of mobile devices. With more than 50 hyper-local apps rolled into each city-specific guide, My City Way is a one-stop application platform to discover, interact with, experience and share information in any city. Tailored for use by local residents and visitors alike, My City Way is an interactive city discovery gateway on your mobile device.
Today's weak economic conditions ask for a multi-dimensional action approach to help our cities. We need to bring in extra tourism dollars into our cities by making them more discoverable and accessible. The local businesses and content providers should be provided with a platform to gain exposure, and increase revenue opportunities. At the same time, city residents should be provided with a platform to make their interactivity with the city a much more enjoyable experience – in turn driving cash flow for local businesses and the government.
My City Way addresses all three of the above through its city specific mobile applications platform. Currently available in NYC, San Francisco, Las Vegas, LA, Washington DC,Boston and London – My City Way Apps are being used by a diverse audience in a variety of innovative ways. Currently available on the iPhone, iPod and iPad, Android – the NYC Way application has already been used by over 250,000 users.
My City Way's modular functionality includes useful local utilities such as: transit schedules and maps, public restroom and wifi locators, dining reviews and reservations, upcoming local event information and ticketing, city landmarks, tour bookings, nightlife discovery and rating tools, local news, apartment and job listings, classified ads, live traffic cameras…and so much more, all conveniently located in one app!
My City Way will soon provide personalized local recommendations based on user profile, past activity and current situation. Premium productivity features will let you plan a day in the city, while integration with various social networks such as Facebook, Twitter and Foursquare allow you to collaborate and share experiences with your friends.
My City Way launched its NYC app, NYC Way, in December 2009 at the NYC Big Apps Competition where it was the only app to win three awards, including Popular Choice and Investors' Choice. Since then, My City Way has developed and launched city applications for Boston, San Francisco, Los Angeles, Washington DC, Las Vegas and London.
After its successful debut at the NYC Big Apps Competition, My City Way co-founders Puneet Mehta, Archana Patchirajan and Sonpreet Bhatia left their jobs on Wall Street to launch this startup. In their words, "Watch while we transform the world one city at a time!"
Buzz from NYCWay App users:
"It lets me to place at least an eye over my beloved New York."
"I've been a NYer for 20 years now; thought I've seen it all in terms of trying to put everything you need to know about NYC in one easily accessible resource, but this is the best by far..."
"WOW! Really AMAZING App! Free app with real value!! (5 of 5) Fully loaded with information! You can tweet from it too! Can't believe it is FREE!"
"I salute the developers. For a non NYC resident like me this is GOLD! I actually ended up at a concert for one of my favorite bands and I had absolutely no clue they were playing in the city."
# # #