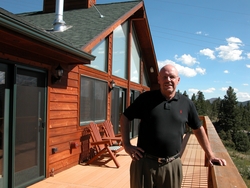 "We take great pride in leveraging technology to offer exceptional mountain vacation experiences and personalized service so you can maximize your time in this beautiful area." Rainer Schelp, President, Estes Park Central
Estes Park, CO (PRWEB) May 19, 2010
In the age of instant communication, Estes Park Central offers vacation goers the opportunity to switch gears from Wi-Fi to wildlife. With over 25 different properties to choose from, you have your pick of finest locations in Estes Park, the gateway to Rocky Mountain National Park. Recently Trip Advisor ranked Rocky Mountain National Park the #2 Outdoor & Adventure destination in the world, second only to Queenstown, New Zealand.
Estes Park Central is experiencing unparalleled growth, and not just due to their gorgeous properties, which are all fully equipped with every luxury. The Estes Park Central reservations system has tapped into fast paced technology to help ensure customers' vacations start with a hassle free bookings. Search engine optimization, an extremely user friendly web site, and even giving their booking agents the ability to search for and book available properties right from their phones; Estes Park Central's commitment to excellence in customer service is also key component to this business doubling in size every year since it's inception three years ago.
Rainer Schelp, President of Estes Park Central is also the President NetFuzion; a software company specializing in wireless business software and mobile asset management. Utilizing his affinity for software design, he is able to outfit his booking agents with the tools needed for the fastest, most efficient customer service. Those renting through Estes Park Central are able to plan a long, relaxing vacation in an instant, thanks to the NetFuzion developed mobile software.
Visit http://www.estesparkcentral.com and you'll see homes featuring private decks and hot tubs, high-end appliances, cable and Wi-Fi – enabling guests to spend their days enjoying the Rocky Mountain adventure, wildlife and exquisite scenery, and then their nights when they return to an exquisite home designed with opulent relaxation in mind.
Choosing an Estes Park Vacation home rental with internet access allows you to experience all Estes & Rocky Mountain National Park has to offer; a beautiful, historic downtown district with unique shopping and dining at every corner, everything from horseback riding, hiking and rock climbing, fishing and rock climbing to rodeos and rafting in the summer and snowshoeing and skiing in both Rocky Mountain National Park and El Dora Mountain resort in the winter. Experience all of this with a constant native audience of elk, deer, coyotes, wild turkeys and the occasional black bear.
To ensure their customers can plan their ultimate idea of the perfect mountain getaway, Estes Park Central's website allows guests to not only check available properties but also peruse upcoming Estes events and activities, keep an eye on the Estes weather forecast, and even look over restaurant and merchant guides in advance. To complete this experience, visitors can also purchase beautiful local photographs to commemorate their stay. In one virtual stop, your vacation is is completely planned.
Customers can also get instant updates on Estes Park Central specials as well as events in Estes Park by following them on their facebook page:
http://www.facebook.com/pages/Estes-Park-Central/116567352976
Whether you come to town for the live music, the rodeo, a laid back holiday weekend or one of many festivals held in Estes Park annually, Rainer Schelp and his staff with Estes Park Central posses the technological tools to, in mere moments, help you book a long, relaxing vacation in Estes Park.
###