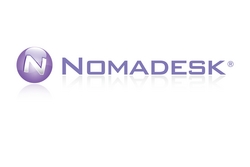 The Digital Age has transformed the way companies transfer and share files, especially in the publishing and printing industries. With Nomadesk there is finally a high-tech, low barrier solution for this market.
New York, NY (Vocus) May 13, 2010
Nomadesk, developer of the easiest and most secure cloud storage and file sharing software, has started a campaign to target the publishing, graphic design and printing industries with the safest and most convenient way to organize, access, share and backup files. Nomadesk gives graphic designers and agencies the ability to access their files on any workstation with an internet connection; send FileLinks and FolderLinks for customers to review docs straight from a hard drive; and allow customers to upload source material through a website safely and securely.
With Nomadesk, printers can now set up world-class file sharing with FTP and VPN-like functionality at a fraction of the cost; enable customers to upload printer-ready files through a website; and directly feed incoming files in the production workflow. For publishers, Nomadesk enables editors and photographers to sync their contributions through a simple internet connection; collaborate on text and publications without the need for an expensive system; and enable advertisers to submit ads through an enterprise-level, browser-based web-submission mechanism.
"The Digital Age has transformed the way companies transfer and share files, especially in the publishing and printing industries. With Nomadesk there is finally a high-tech, low barrier solution for this market. As Nomadesk easily integrates with any website, allowing for file sharing and file submission through any web browser, it makes for an ideal solution to aid ad agencies, printers, publishers and graphic artists," said Nomadesk CEO Filip Tack. "For printers or other companies needing to receive files on a regular basis, this is an extremely user-friendly and cost-effective alternative to FTP. Since Nomadesk acts as a virtual fileserver on a computer, the received files can instantly move into any local automated workflow."
The Nomadesk fileserver acts as a traditional hard drive, allowing users to easily drag and drop documents, drawings, photos, videos, presentations or other files as usual to store in one place with local and remote access from a PC, Mac, iPhone or Smartphone. Files are immediately encrypted, backed up and available for file sharing. For a flat fee, users can invite an unlimited number of team members and customers to share files on the Nomadesk fileserver, which automatically synchronizes so everyone can instantly access files both online and offline. Publishers can easily collaborate on a publication with team members in various locations, without the need of an expensive infrastructure.
Nomadesk partner and customer Four Pees, a global sales and marketing firm, works with technology companies that target companies in the publishing industry. In addition to being a Nomadesk user, Four Pees has partnered with Nomadesk in running a campaign to target publishers, printers, graphic designers and ad agencies with key benefits for improving file management and productivity.
"With 12 team members and a network of 150 active dealers worldwide that target companies in the publishing industry, we end up creating and sharing a large number of marketing documents each month both internally with employees that work remotely as well as globally with our partners and suppliers," said Tom Peire, President and CEO of Four Pees. "Nomadesk made perfect sense for a company like ours. We have replaced our company fileserver with a Nomadesk Team Fileserver and also set each of our employees up with Nomadesk Personal Fileservers. This has boosted productivity and built in a layer of security with automatic backups to the Cloud. Nomadesk organizes everyone's stuff in the same fashion so files are never lost and confusion on versions is minimized. In addition to eliminating file duplication, which ensures we are using the most current file versions, Nomadesk gives everyone file access anytime from anywhere; improves collaboration within the team and with outside copywriters and designers; and lowers our IT costs because we no longer need an FTP, Webserver or VPN."
Four Pees has also easily created several file submission points to their website so clients can upload content, and they created a web page targeted at a specific customer group with shared content through Nomadesk's Widget feature. Check out this FolderLink to view screenshots of these two collaboration tools.
Millions of people who work remotely or travel for business risk losing their unprotected, critical data every day. As the amount of unprotected data stored on multiple devices increases, it becomes harder to synchronize and easier to lose. Keeping data secure, synchronized, backed up and available can be expensive and require in-house IT expertise. Whether customers are online or offline, working at the office or on the road, Nomadesk allows business teams to secure, sync and share data with no limits or change in behavior.
"I'm a Mac user and have been looking for a solution that has the capability of improving the productivity of collaboration with my suppliers and customers , while safely storing my stuff," said Caroline Vanderstede, a creative designer at Mojoville. "I can now easily share files straight from my desktop. The Nomadesk online dashboard is fast and easy to use and offers access to more advanced functionality such as folder sharing and the integration of Nomadesk into our website. As a creative designer, much of my work consists of large files that are difficult to email and risky to forward back and forth on a thumb drive or memory stick. In addition to increasing productivity, Nomadesk's security features are one of the biggest reasons why I selected their product for my small business."
About Nomadesk
With U.S. headquarters in New York and world headquarters in Ghent, Belgium, Nomadesk is a leading provider of cloud storage and file sharing software that enables users to access, share and safeguard files from any location, whether online or offline. Nomadesk is the easiest and most secure way to collaborate and backup critical files. Bringing the power of cloud computing to small businesses, Nomadesk alleviates the hassles and minimizes the high costs of traditional document management solutions, as well as online storage pay-per-user models. For only $15 per month per fileserver, an unlimited number of team members can access, share and save docs with unlimited* storage capacity. In addition, Theftguard™ provides advanced tracking and allows users to spot a stolen or misplaced device on Google Maps and remotely shred all important documents from their fileserver. Nomadesk software can be downloaded on http://www.nomadesk.com and easily installed with a 30-day free trial. The company received $4.25M Series A funding led by Gimv Venture Capital (http://www.gimv.com). To learn more about Nomadesk, visit http://www.nomadesk.com, become a Nomadesk fan or watch this 2-min video.
About Four Pees
Named after the four P's of marketing – product, price, place and promotion – Four Pees is an international business partner providing marketing, sales and distribution, as well as professional services for collaboration, production automation and color optimization solutions. Four Pees is worldwide distributor of ProofMaster, for color-accurate contract proofs and PrintFactory, a production suite for large format printing. Other represented brands include axaio software, Barbieri, callas software, CtrlPublishing, DFlux, Elpical and Nomadesk.Four Pees was established in 2007 by Tom Peire and has grown into a team of seasoned marketing, sales and service professionals. Learn more about the Four Pees service offering and the products it represents at http://www.fourpees.com.
*] Subject to Fair Use Policy
Contact Info:
John Sperrazzo / Nomadesk PR / Eye-To-Eye Communications, Inc. / 858-565-9800 / john (at) eyetoeyepr (dot) com
###