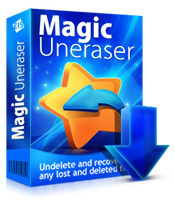 Magic Uneraser will help you to locate and recover documents, compressed archives, emails, music and video files
(PRWEB) May 13, 2010 - East Imperial Soft announces the release of Magic Uneraser 3.0, a major update to an award-
winning end-user data recovery product. The new release improves usability with step-by-step wizards, and makes data recovery even safer by allowing users to work with disk images instead of physical hard drives. In addition, the new release allows recovered files to be recorded onto a CD/DVD or stored on a network location, and supports the recovery of NTFS compressed files.
About Magic Uneraser 3.0
Magic Uneraser helps computer users recover deleted files and information lost after a system accident. Supporting a variety of storage media types, Magic Uneraser makes it possible to recover information from healthy, damaged and inaccessible hard drives, flash memory cards and USB sticks. Sophisticated data recovery algorithms allow Magic Uneraser locating and successfully recovering files from formatted, corrupted and repartitioned disks.
New in Version 3.0
The latest release of Magic Uneraser 3.0 features an updated user interface, allowing new and experienced computer users to recover lost information safely and effectively. A new step-by-step wizard guides users through the entire recovery process, helping them choose the right disk or storage device to recover files from, locate missing data, and select the most appropriate course of action for recovering the most data in the shortest time possible.
Magic Uneraser adds the ability to create and process disk images, allowing the users to perform the recovery from a virtual disk image instead of the physical storage device. This allows attempting multiple data recovery strategies without the risk of causing irreversible damage to the original storage device.
New to Magic Uneraser 3.0 is the ability to store files being recovered onto a CD or DVD media, uploading them over FTP, or packing them into a standard ISO image. In addition, Windows Vista/7-compatible Magic Uneraser 3.0 adds the ability to locate and recover NTFS-compressed files.
About East Imperial Soft
Founded in 2002, East Imperial Soft develops end-user data recovery products for Microsoft Windows. The company's wide range of recovery tools covers the needs of novice computer users and data recovery professionals. The company offers end-user solutions that combine advanced technical capabilities with the level of usability allowing its products to be used by home users and professionals altogether.
Free evaluation version of Magic Uneraser 3.0 is available for download at http://www.magicuneraser.com
###