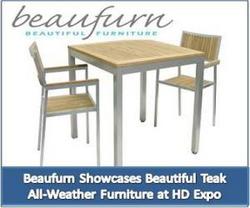 "The Teak 818 collection of all weather stacking arm chairs, stacking side chairs, bar stools and tables by Beaufurn feature solid aluminum frames and beautiful teak slats. The stacking chairs offer maximum flexibility to meet the ebb and flow of custome
Winston Salem, NC (PRWEB) May 13, 2010
Winston-Salem, NC (PRWEB) May 12th -- Beaufurn, LLC (http://www.Beaufurn.com) is proud to announce that the company will be a major exhibitor at the 2010 Hospitality Design Expo in Las Vegas.
The 2010 Hospitality Design Expo is a great resource for new products and services and most importantly connection with the wider hospitality design community. HD Expo features a show floor with more than 900 exhibitors covering an array of manufacturers and artisans of hospitality products and services. Information packed, idea generating conference sessions focusing 100% on hospitality design give attendees the latest and most pertinent issues facing our industry. HD Expo is THE source for the newest and most inspiring hospitality products and services and most importantly your connection with the wider hospitality design community. With more than 7,000 attendees and 900 exhibitors, HD Expo is the premier hospitality design-networking event that will help you stay on the forefront of the creative landscape. You'll experience the best in the industry today, and what's on the horizon.
This year, Beaufurn will show case the company's contemporary design and high quality craftsmanship takes teak wood furniture to the highest level of style and versatility. Teak is one of the hardest, strongest and most durable of all wood, perfect for all-weather use. Teak wood contains a very large percentage of silica (sand) and natural oils. It is also a very dense wood. Because of these characteristics, teak wood is the preferred wood for decking either on ships or at the home. Believe it or not, the silica content in teak wood actually helps to attain sure footing when used in the flooring of a ship. The oil content assures its durability. To maintain it, it just needs to be cleaned off periodically. The benefits do not end there. Because of the oil content, the silica, and the density of the wood, teak wood does not react with any metals that may come in contact with it. These are the same characteristics that have caused people around the world, and companies that operate resorts and retreats to invest in outdoor furniture made of teak wood.
Beaufurn will showcase its beautiful Teak 818 all-weather collection at the Hospitality Design Expo and Conference in Las Vegas May 19 – 21, Booth #5322.
"The Teak 818 collection of all weather stacking arm chairs, stacking side chairs, bar stools and tables by Beaufurn feature solid aluminum frames and beautiful teak slats. The stacking chairs offer maximum flexibility to meet the ebb and flow of customers and add a fresh new look to outdoor seating areas, bars, restaurants and coffee shops." Said Bill Bongaerts, President of Beaufurn, LLC.
Beaufurn's nationwide clients include The Cheesecake Factory, Verizon Wireless/Cellular Sales, Universal Studios, Walt Disney, Steve Wynn Casino, Sea World and McDonald's.
High resolution, color images of these products are available for publication. Please contact Patricia Golden at patricia@myteamofexperts.com to request photos.
ABOUT BEAUFURN
Founded in 1996 and headquartered in Winston-Salem, North Carolina, Beaufurn, LLC supplies high-quality, innovatively designed furnishing solutions to hotels, restaurants, universities, airports, food courts, coffee shops and commercial customers worldwide.
When choosing bar furniture, restaurant furniture, restaurant chairs, bistro tables, lounge furniture, café tables, patio chairs etc. for hotel, restaurant, bistro, bar, night club, lounge, café, patio, country club, college dormitory – quality and durability are paramount. For years, Beaufurn has been manufacturing distinctive custom wholesale commercial furniture for leading businesses and institution around the world. Beaufurn's furniture is American-made, produced in North Carolina to exacting standards, yet available at economical wholesale price, ready for shipment to any location.
Beaufurn's wide array of commercial furniture, both indoor and outdoor, is available in a variety of styles, materials, colors and fabrics, ranging from traditional to retro to cutting-edge contemporary.
###