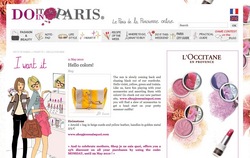 We struck this partnership not only to help new designers gain recognition but also to provide more meaningful content on a more frequent basis to customers of both companies
Paris, France (PRWEB) May 12, 2010
JE NE SAIS QUOI (JNSQ), the Paris-based online fashion boutique, and DoItInParis.com, an online fashion and lifestyle magazine, have formed a partnership to introduce up-and-coming designers to a wider audience, it was announced today.
The strategic partnership between the two like-minded companies aims to raise the reputation and visibility of emerging designers and niche brands found on the JNSQ website, while aiming to provide relevant content more frequently to the people who visit both sites.
With the JNSQ Spring/Summer collection almost complete, JE NE SAIS QUOI founder Mireille Nagourney thought it was the perfect time to launch the relationship with Do It In Paris, which brings in 900,000 unique monthly visitors and has 68,000 global newsletter subscribers who share an affinity for Parisian style and culture.
"Both JE NE SAIS QUOI and Do It In Paris cater to discerning readers and clients in France and abroad, all of whom tend to share our passion for Parisian aesthetics," Nagourney said. "We struck this partnership not only to help new designers gain recognition but also to provide more meaningful content on a more frequent basis to customers of both companies. We're especially excited that JNSQ brands and designers will be introduced to a new audience through DoItInParis.com."
Véronique Roger-Vasselin-Constantinoff, the founder and editor of Do It In Paris, expressed her excitement for the partnership, "We are extremely happy to introduce this online shop to our readers! We love their fashion-forward and varied selection of niche brands that we can't easily find in Paris and love the 5 looks they put forward that give a quick glimpse into what is offered on the site. It's an added benefit for our readers in search of young, up-and-coming designers off the beaten path."
DoItInParis.com will feature products found on the JNSQ website in their "I Want It" rubric as well as in their bilingual newsletters, while JNSQ will maintain a category called "the Do It In Paris Selection" on the boutique's website which will be updated monthly with the magazine editor's favorite pieces of the moment.
The launch of the Je Ne Sais Quoi fashion and lifestyle blog "Your Je Ne Sais Quoi" today should also provide opportunities to increase visibility for both companies. Je Ne Sais Quoi will cross-promote "in-the-know" Paris hotspots and events from Do It's "Address Book", a Parisian black book of sorts. Do It will have a presence on the Je Ne Sais Quoi blog in the hopes of attracting the boutique's loyal, international clientele as new readers.  
About Je Ne Sais Quoi:
Paris-based Je Ne Sais Quoi, founded at the end of 2008 is an online multi-brand boutique specialized in niche, international ready-to-wear and accessories brands and new designers for men and women. The company seeks to democratize the access to these brands while maintaining its Franco-American aesthetic. Clients from all over the world come to Je Ne Sais Quoi because they know they will find personalized service and a truly unique selection.
JNSQ carries Heimstone, LnA, Catherine Michiels, Owen&Savary, Ettinger, and Moio among others. They will soon feature Eva Zingoni, Rebecca Minkoff and Odile de Changy. For more information, please visit http://www.shopjenesaisquoi.com.
About Do It In Paris:
DoItInParis.com is a Parisian lifestyle and fashion online magazine founded by Véronique Roger-Vasselin-Constantinoff at the end of 2008, the former fashion editor-in-chief for Atmospheres magazine and style consultant for the famed department store, Le Bon Marché. The site has 90,000 monthly visitors and 68,000 newsletter subscribers from around the world.
Contacts:
Je Ne Sais Quoi
Mireille Nagourney
Founder
mireille(at)shopjenesaisquoi(dot)com
Lindsey Tramuta
Marketing & Communication Manager
lindsey(at)shopjenesaisquoi(dot)com
+33 (0)1 47 66 38 31
Do It In Paris
Véronique Roger-Vasselin-Constantinoff
Founder and Editor
veronique(at)doitinparis(dot)com
+33 (0)1 45 49 17 32
###