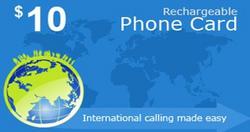 Without investing in expensive overheads, our skilled team at PEC can help you get started
New York, NY (PRWEB) May 15, 2010
Parwan Electronics Corporation (PEC) has made it easier than ever to start your very own Prepaid Calling Card Business without investing in expensive equipment or long term contracts.
A Prepaid Calling Card (commonly known as a phone card) is a service provided by telecom companies to pay for a long distance connection in advance. Prepaid phone cards are usually available at newsstands, drugstores, gas stations, and convenient stores. After purchasing a phone card, you dial a local or toll free number, which further asks for a PIN and then sets up an account for you with the balance you have purchased. Once programmed into the phone, features such as the pinless calling allow you to make further calls without having to dial the PIN every time. The service recognizes a caller id, plays the balance and connects the calls. Calling Cards are the most cost effective way of making quality long distance or international calls, thus getting the best value for the money. Recharging or adding balance to calling cards can be done instantly through credit cards or topping off from buying new calling cards. Balances and statements can also be viewed online.
"First and foremost, to start your own prepaid calling card business, one must develop a solid infrastructure for the prepaid calling card service to run on," explains Debabrata Das, of Parwan Electronics Corporation(PEC). Choosing a good billing and call management software ensures that every call made through the system is tracked and no call is left unbilled. CardSaver by PEC is not only a robust, dependable platform; it is also the simplest and most user-friendly package in the industry.
CardSaver is a pinless and calling card billing and control platform which enables you to view reports on communications traffic passing through the service. CardSaver gives you complete control over calling cards, including PIN generation, usage fees, expiration dates, and much more. Some of the new features that CardSaver offers are a speed dial feature which can be programmed as a convenience to frequently dialed numbers. It also offers features like "##" to disconnect the last call and get a new dial tone without actually hanging up, "0#" to redial last number etc. A new breakthrough is the Direct Dialing feature, where a local phone number is assigned to an actual international number and one can dial locally and get connected internationally without the whole process of dialing several numbers and PINs. With its user-friendly, yet powerful functionality, CardSaver is the industry-preferred billing software for Prepaid Calling services.
One of the most vital components of the service is the VoIP Gateway which handles calls through the service. This is most important for sound quality and reliability of the service. PEC recommends Cisco VoIP gateways because of their robustness, flexibility, and support.
"Without investing in expensive overheads, our skilled team at PEC can help you get started," explains Ajay Tschand, CTO of Parwan Electronics Corporation(PEC).
Making money from the calling card business is a combination of several factors, including the equipment you choose (VoIP Gateways & VoIP Billing System), Inbound Telephone Service, Internet Service, Long Distance Services, Marketing and Selling techniques. Marketing your calling cards will differ from location to location. You can sell through retail stores, distributors, internet, as prepaid services or to existing customers. PEC will work with you to ensure that all aspects of the business are covered so that you have a successful business.
Parwan Electronics Corporation (PEC) has been creating innovative and bullet-proof software since 1984. They have installed over 25,000 Systems worldwide in more than 10,000 locations. PEC is dedicated exclusively to the telecom software field and specializes in providing telecom Systems for TDM & VoIP phone companies, entrepreneurs, corporate offices, and many more.
"We at Parwan Electronics Corporation (PEC) have a great deal of experience designing and integrating with products developed for the Prepaid Calling Card industry," says Rachna Tschand, Director of PR and Marketing, Parwan Electronics Corporation (PEC). The entire organization is geared to industrial-strength software products that meet the telecom requirements of today, at cost effective prices. The knowledgeable technical support teams employed by Parwan Electronics Corporation (PEC) are available to assist you during installation and the operating of your system.
Start your own Prepaid Calling Card Business now!
Contact us at:
Parwan Electronics Corporation (PEC)
1230 Highway 34
Aberdeen, New Jersey 07747 USA
Phone: 001-732-290-1900 ext. 225
Fax: 001-732-566-8771
http://www.voicesaver.com
http://www.pecbilling.com
Email: ajay(at)voicesaver(dot)com
###