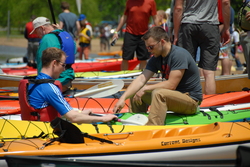 We want St. Louis to realize the potential it holds to become an outdoor lover's paradise." -- Todd Oswald, Marketing Director
St. Louis, MO. (PRWEB) May 13, 2010
Paddle a kayak. Take a new bike for a spin. Experience some activities you've never tried before at the Outdoor Adventure Festival on Saturday and Sunday, May 15 and 16 at Creve Coeur Park.
All ages are invited to experience a little adventure with demonstrations, competitions, games and entertainment planned for the entire weekend.
Love the water? More than 60 kayaks and canoes will line the beach to paddle. You can even try your luck at the hottest trend to hit paddlesports in the last five years – stand up paddleboards. It's a little like surfing, canoeing and a great workout all rolled into one.
If rolling on dry land is more your style, test-bike rides will be available throughout the weekend around the Creve Coeur Park Lake trail. For those with a taste for dirt, Alpine Shop employees will lead two mountain bike rides in the eastern section of the park.
You'll also find demonstrations and instructions for all sorts of summer outdoor activities like kayak fishing, slacklining – a balance exercise favored by the climbing community for years and recently moved into the mainstream; and Nordic walking, one of the most efficient and lowest impact exercises available today. Adventure Olympics, a fun blend of games and competitions with prizes for everyone, will be held each day from 2 – 4 pm on the beach.
"We want St. Louis to realize the potential it holds to become an outdoor lover's paradise," said Todd Oswald, Marketing Director for Alpine Shop, a local outdoor recreation retailer. "Come on out and give a little adventure a try. We think your family will be hooked."
The Outdoor Adventure Festival is held on the beach at the southwest corner of Creve Coeur Lake in front of the Taco Bell Shelter. Saturday's hours are 10 am to 5 pm. Sunday's hours are noon to 5 pm. Registration is $5 per person and covers all activities and demonstrations for the entire weekend. Kids under 13 are free if participating with an adult. Kids wanting to paddle their own boats, however, will need to register, as well.
A complete schedule of the weekend's activities is available at alpineshop.com.
About Alpine Shop
Alpine Shop began life in 1973 as a small climbing shop. Today, through its three locations in Kirkwood, Chesterfield and Columbia, Mo., it serves almost every type of outdoor enthusiast—be they backpackers, campers, cyclists, hikers, paddlers, skiers, snowboarders or climbers—with a friendly and knowledgeable staff, cutting edge products and a wide variety of how-to clinics for all activity levels.
###