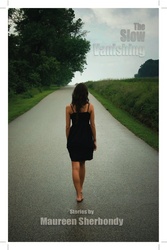 Raleigh, NC (PRWEB) May 14, 2010
Maureen Sherbondy's short-story collection, The Slow Vanishing, has been named one of three finalists in the Short Story Fiction category of the 2010 Next Generation Indie Book Awards. Sherbondy is a Raleigh, NC poet with two published poetry collections. She teaches publishing and creative writing workshops. Her short-story collection includes flash fiction and traditional-length stories.
About the award, Sherbondy says, "What an honor to be selected as a finalist for this collection of stories. I hope The Slow Vanishing will attract new readers as a result."
The Next Generation Indie Book Awards "was established to recognize and honor the most exceptional independently published books in 60 different categories, for the year, and is presented by Independent Book Publishing Professionals Group."
The winners and finalists will be highlighted in a special 2010 Next Generation Indie Book Awards catalog which will be distributed at Book Expo America ("BEA") in New York later this month to thousands of attendees including book buyers, library representatives, media, industry professionals, and others.
Sherbondy's stories have appeared in Stone Canoe, the North Carolina Literary Review, Southeast Review, and the Sierra Nevada College Review. She is a previous winner of the Piccolo Spoleto Fiction Open, as well as a finalist in Southeast Review's Best Short-Short Story Contest. Included in The Slow Vanishing is "The Final Simcha," a 2007 runner-up in the prestigious William Faulkner–William Wisdom Creative Writing Contest. Her forthcoming poetry collection, Weary Blues, will be published by Big Table Publishing later this year.
North Carolina novelist Joanna Catherine Scott describes Sherbondy's debut short-story collection: "Off-beat stories with unexpected endings. Life's ordinary problems intruded on by the bizarre. The Slow Vanishing has a mesmerizing, magical effect."
Karen Quinn, bestselling author of The Ivy Chronicles, says of The Slow Vanishing, "The writing is very evocative and interesting to read. I enjoyed each piece tremendously."
The Slow Vanishing is available through Main Street Rag Publishing Company (Charlotte, NC), ISBN 13: 978-1-59948-186-9. The book is $13.95 and can be ordered directly from the publisher at http://www.mainstreetrag.com and also at select independent booksellers.
Media Contact: Maureen Sherbondy
Phone: (919) 847-9108/ (919) 389-2902
321 Jellison Court
Raleigh, NC 27615
maureensherbondy.com
mainstreetrag.com
http://www.indiebookawards.com
Review Copies and Interviews Available
# # #