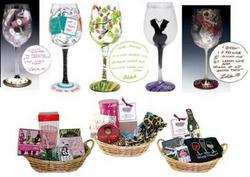 "We wanted to make it as easy as possible for our guests to find the items they are looking for as well as complementary items." David Scott
Grapevine, TX (PRWEB) May 13, 2010
To make online shopping faster and easier on its website, WineDivaShop.com has implemented a website redesign by creating additional categories along with new ability to shop for similar items with "Shop By Theme" functionality.
"As the leading purveyor of wine related gifts for women, we wanted to make shopping our website an even more enjoyable experience," said David Scott, President of Wine Diva Shop. "With our vast array of products and with recurring themes or designs across multiple product categories, we wanted to make it as easy as possible for our guests to find the items they are looking for as well as complementary items," stated Scott.
The "Shop by Theme" function is a collection of items from several product categories in groups such as animal prints, birthday, and shoes and purses among others. Another new theme category is for the licensed designs of Lolita Yancey. In addition to the Lolita wine glasses, which Wine Diva Shop has carried since its inception, this new category includes new items like Lolita napkins, party plates, and Lolita acrylic wine glass sets. Wine Diva Shop has also added several Lolita wine glass styles so far this year.
Wine Diva Shop has also added a large selection of new products during 2010. These items include new wine shirts, painted wine glasses, and wine napkins. In addition to the new items, Wine Diva Shop has created gift baskets with its fun and unique items. Some of the baskets include a leopard themed basket and a shoe lover's basket. "These baskets will make great gifts for wine divas and it is another way we can make shopping easier for our guests," said Scott. Baskets include items like a wine shirt, wine stopper, and wine glass among other items depending upon the basket.
Wine Diva Shop is a leading supplier of fun and unique wine related gifts for women. Product offerings include wine apparel, wine napkins, home décor, hand painted wine glasses, and gourmet chocolates. Wine Diva was created in 2008 by Su Vino Winery as a destination for fun and sassy wine related gift items. Shop for your unique wine related products faster and easier with the redesign of Wine Diva Shop.
# # #