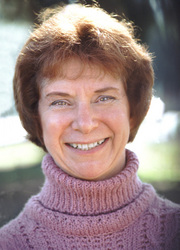 "Study humanity and dream…" is Fontana's advice to aspiring writers.
North Hampton, NH (PRWEB) May 14, 2010
STARFLEET, the world's oldest and largest continuously-active Star Trek fan organization, is honored to announce that the guest judge for the second annual STARFLEET Short Story Contest will be legendary writer Dorothy ("D.C.") Fontana. Fontana was the author of scripts for the original Star Trek series including fan favorites "Journey to Babel" and "The Enterprise Incident", as well as episodes of Star Trek: The Next Generation, Star Trek: Deep Space Nine, and a collection of Star Trek novels, comic books, and even video games.
Dorothy Fontana has been a writer since the age of 21, and beyond her contributions to the Star Trek legacy, Fontana has written for such acclaimed television series as Babylon 5, Streets of San Francisco, Dallas, Bonanza, The Waltons, The Six Million Dollar Man, and Logan's Run. Fontana's experience and credits extend beyond writing to roles as an associate producer, story editor, novel and video game script author, and comic book contributor. Fontana's experience also extends to development of such practical projects as an interactive medical education game, which aligns well with the orientation of the STARFLEET organization toward education and self-improvement. (STARFLEET offers a number of academic scholarships each year to active members enrolled in colleges and universities.)
STARFLEET's annual Short Story Contest affords aspiring writers an opportunity to have their work critiqued by an industry icon who is also a longstanding advocate of fan-written fiction. Fontana says that many excellent writers have gained professional recognition emerging from the ranks of fandom. "Study humanity and dream…" is her advice to up-and-coming authors. Fontana brings to bear her experience as a close associate of Star Trek creator Gene Roddenberry, as well as her self-admitted critical analysis for character development and tight story structure.
To enter their work in the contest, authors must be members of STARFLEET, the International Star Trek Fan Association, Inc. and submit their stories before 12:00 a.m. Eastern Time on June 1, 2010. All stories must be 7,500 words or less and take place within the fictional science fiction universe of Star Trek.
For complete contest guidelines, please visit http://fiction.sfi.org.
ABOUT STARFLEET
STARFLEET, The International Star Trek Fan Association, Inc. is an organization of over 4,200 Star Trek™ and science fiction enthusiasts that have united the world of fandom in their appreciation of Star Trek™, the greatest human adventure. Founded in 1974, STARFLEET has operated continuously for 35 years, making it the oldest Star Trek™ fan association of its size in the world. This unique organization has over 235 chapters globally, linking members from one corner of the Earth to the other both in person and through the Internet. STARFLEET is made up of people of all ages and from all walks of life who have come together to make new friends, share an interest in Star Trek™, science fiction and space, and to serve their local communities.
For more information on STARFLEET, please visit http://www.sfi.org or call 1-888-SFI-TREK.
Press Contact:
Brandt Heatherington
pr(at)sfi(dot)org
703-659-7194
###