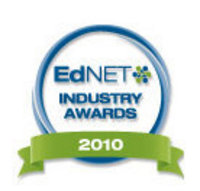 All of us here at eChalk are thrilled to be honored for the work we've done blending online and offline and formal and informal learning.
New York, NY (PRWEB) May 13, 2010
eChalk, the education technology leader in web-based communication and collaboration tools for K-12 school communities, has been selected as one of three finalists for the 2010 EdNET Pioneer Award.
"All of us here at eChalk are thrilled to be honored for the work we've done blending online and offline and formal and informal learning. I'm most proud that we have pioneered communication and collaboration tools that teachers, students and schools actually use to positively impact learning. And we've advocated for funding streams such as E-Rate to help ensure accessibility to such technology," said Torrance Robinson, Founder and President.
The Pioneer Award is given to the organization that has made the most significant contribution to the growth of the education market through developing innovative products and programs for schools, creating a new niche that fosters opportunities for other businesses as well, expanding the size of a market segment or new sector and/or advocating for new funding, legislation and/or initiatives that support these efforts.
"While ahead of our time 10 years ago, we're inspired by the demand we see for social learning in schools today and we look forward to bringing together the best Web 2.0 and course management features and functionality that school communities expect in the coming years," said Charlene Noll, Vice President of Product Development.
The EdNET Industry Awards program has been honoring education leaders for 18 years in conjunction with the annual EdNET Educational Networking Conference, which is now in its 22nd year and sponsored by MDR, the leading provider of marketing and sales information and services for the U.S. education market. Finalists for the EdNET 2010 Industry Awards were selected by a panel of leading education industry experts.
The first-ever virtual awards ceremony honoring the EdNET Industry Awards finalists and announcing the winners will take place on May 19, 2010, at 1:00 PM ET. Winners will be announced for three different awards: the EdNET 2010 Impact Award, Pioneer Award, and Rookie of the Year Award. To attend this ceremony or for more information about the awards, visit http://www.schooldata.com/ednetawards.asp.
About eChalk
eChalk helps teachers, students, parents and school leaders safely use the web to connect to the people and information they need to make learning successful. Only eChalk allows schools to create and manage school websites, encourage collaboration among faculty and staff in professional learning communities, involve parents as active partners in their children's education and engage today's students, who are digital natives, with Web 2.0 tools to personalize instruction – safe, secure and all in one place for everyone in a given school, district, region or state. Founded in 1999 and headquartered in New York City, eChalk is a software-as-a-service that aims to help K-12 school communities communicate and collaborate more effectively among all of their stakeholders in order to foster ideas and opportunities for learners of all ages.
About EdNET and the EdNET Industry Awards
The EdNET Conference is the education market's premier annual networking conference. It brings together education executives, school administrators and policymakers to network and build strategic business partnerships. Operated by MDR, EdNET activities have grown to also include virtual roundtables, news and industry alerts and in-depth research offerings. The EdNET Industry Awards program was created in 1992 to champion the efforts of progressive organizations helping to revitalize the nation's educational system. The EdNET 2010 Conference will be in Boston, September 26-28.
Media Contact
Ian Bryan
828.242.1868
ianbryan(at)sensiblecity(dot)com
###