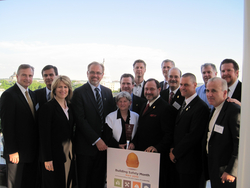 The themes for this year's campaign closely reflect BASF's overall company mission and offerings
Florham Park, NJ (PRWEB) May 14, 2010
BASF, the world's leading chemical company, today announced that the company is partnering with the International Code Council to promote Building Safety Month2010 during the month of May. This outreach campaign focuses on the importance of energy-efficiency, reduced environmental impacts, disaster prevention and preparedness, fire prevention and backyard safety.
At the Building Safety Month kick off event on May 4 in Washington, D.C., Michael Sievers, Business Manger for BASF, explained why BASF decided to sponsor Building Safety Month 2010. "As the leading supplier of chemical products for the construction industry globally, the themes for this year's campaign closely reflect BASF's overall company mission and offerings," said Sievers.
As examples, Sievers pointed to BASF chemical innovations in insulation that vastly improve the energy efficiency and durability of both homes and commercial buildings; additives that allow water to permeate through pavement and replenish natural aquifers; and impact resistant stucco that can stand up against the ravages of hurricanes.
Building Safety Month Background:
Building Safety Month was formed in 1980 as a response to a series of preventable tragedies, including a Kentucky nightclub fire that killed 165 people just a few years earlier. Investigators surmised that the enforcement of safety codes could have prevented this tragedy. Guided by the Indiana State Building Commissioner's education and training officer, Marty Doucette, and fellow building safety proponents, Building Safety Week was created to raise awareness of building safety and fire prevention codes. 2010 is the first year that the campaign has been extended to a month-long program.
For more information, please visit http://construction.basf.us/buildingsafety or BuildingSafetyMonth.org.
BASF - The Chemical Company.
BASF Corporation, headquartered in Florham Park, New Jersey, is the North American affiliate of BASF SE, Ludwigshafen, Germany. BASF has approximately 16,000 employees in North America, and had sales of $13 billion in 2009. For more information about BASF's North American operations, or to sign up to receive news releases by e-mail, visit http://www.basf.us.
BASF is the world's leading chemical company: The Chemical Company. Its portfolio ranges from chemicals, plastics and performance products to agricultural products, fine chemicals and oil and gas. As a reliable partner, BASF creates chemistry to help its customers in virtually all industries to be more successful. With its high-value products and intelligent solutions, BASF plays an important role in finding answers to global challenges, such as climate protection, energy efficiency, nutrition and mobility. BASF posted sales of more than €50 billion in 2009 and had approximately 105,000 employees as of the end of the year. Further information on BASF is available on the Internet at http://www.basf.com.
###