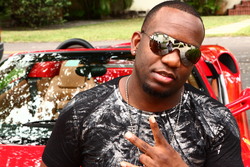 Alexandra is a true discovery! Her voice is phenomenal. She can easily take her place along side of popular Pop Recording Artists such as Katy Perry, Nicole Scherzinger, Fergie and Pink. I am proud to have her on my roster of music artists for 2010!
New York, NY (PRWEB) May 14, 2010
MASE is a hot new producer with a flair for creating beats and writing songs. Laser-focused, with a no-compromise attitude and a talent for business, he is quickly making headway as a force to be reckoned with in the world of hit records. "Music has always been a part of my life," he says. "I never really thought I would do music for a living, but everywhere that I have been, I was around music."
Mase was born in Libreville Gabon, Africa and attended school in France. After graduation, he moved to the United States, where he obtained a bachelor's degree in international relations. His true calling, however, is making music, and so he combined his multicultural background and studio knowledge to launch Miami-based DMS Entertainment, signing rising stars and solo artists CaMille and Alexandra to his new label, as well as releasing a single that he wrote and performs on titled, "We Miss U", available on iTunes..
"Alexandra is a true discovery! Her voice is phenomenal. She can easily take her place along side of popular Pop Recording Artists such as Katy Perry, Nicole Scherzinger, Fergie and Pink. I am proud to have her on my roster of music artists for 2010!" says MASE, who serves as Executive Producer on Alexandra's upcoming album and music video.
Born in Miami, Florida, Alexandra has been interested in a singing and dancing since the tender age of 3, beginning with studying Classical Ballet and winning national dance competitions throughout the State of Florida up into her teen years. She also pursued drama, modeling and was involved in Southwest High's Choir, in which she excelled. At 16, the talented singer knew that music was her destiny. At 18, Alexandra auditioned for WB's then new reality series, POPSTARS 1, where she beat out thousands of singers from all over the country for a spot in the Final 20. After that wonderful experience, Alexandra worked with a few up and coming music producers, continuing to hone her vocal skills and exposure to the music industry.
Then AMERICAN IDOL happened onto Alexandra's path. The determined young singer auditioned for Season 1 of AMERICAN IDOL, along with Kelly Clarkson and Justin Guarini. Alexandra impressed the judges with her strong vocal chops and corky personality, making it to the final Top Ten with only 3 open spots. However, America said good-by to Alexandra, opening the door for new and exciting experiences in the music industry. One of those experiences has been meeting Music Producer, MASE who spotted and believed in her talent and signed the stunning performer to a recording contract to DMS ENTERTAINMENT. The result is the upcoming release of singles, "All Night" and "Atten Hut" and music videos from her forthcoming CD, ALTER EGO
DMS ENTERTAINMENT is also set to release CaMille, an up and coming sexy R&B Vocal Diva this spring. CaMille's first single and music video SUPERMAN LOVER featuring Casely and produced by MASE was released last month via iTunes with a forthcoming album to drop early summer. The Music Video is currently on a list of hot music sites and will be officially released to Music Video outlets next month.
"We are extremely excited about CaMille. She is poised to emerge as one of the unique music discoveries for 2010, says MASE, born in Libreville Gabon, Africa, who now resides in the States and works from his studio in Miami.
Born Megan "CaMille" Vieira, the precocious young girl began to flex her vocal prowess as soon as she could speak. CaMille spent most of her childhood in Georgetown, Guyana, honing her R&B/Pop sound by performing regularly at multiple public venues. Even at the tender age of 13, she showed the depth of her talent as the youngest competitor and finalist in the Guyana-based radio show, In Search of the Stars. She also lent her voice to an album of Christmas classics recorded to benefit underserved communities in her native country. She came to the United States in 2005, at the age of 17, with the goal of taking her career to the next level. Recognizing her talent, the University of Miami's prestigious Performing Arts Institute awarded her a full scholarship. There, CaMille expanded her skills as a premiere vocalist and songwriter. It was not long after that CaMille met and is now currently working in the studio to complete her first album with Producer and Mentor, MASE, CEO of DMS ENTERTAINMENT.
Born
Both Alexandra and CaMille will be visiting radio stations and making on local TV appearances in support of the projects this winter. With the assistance of radio promo and marketing teams around the country, DMS ENTERTAINMENT plans on garnering national and international recognition for the CD releases for ALEXANDRA. and CaMille.
For more information on MASE, please visit the following sites:
http://www.dmsentertainment.com and http://www.twitter.com/masedms
PRESS REPRESENTATION:
PSI NORTH-SOUTH PARTNERS, INC.
941-408-9530 (T)
prettyspecialinc(at)aol(dot)com
###