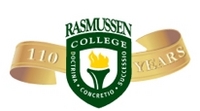 "Recruiting top talent is an ongoing priority for Rasmussen College, and we are proud to bring new job opportunities to the Wausau area as our campus continues to expand its educational capabilities," Rasmussen College Wausau Campus Director Sue Williams
Wausau, Wis. (PRWEB) May 13, 2010
Rasmussen College, a premier education provider delivering Bachelor's and Associate's degree programs online and through its network of campuses, announced today the addition of three new faculty members at its college campus in Wausau, Wis. Tom Lisack, Corinne Solsrud, and Lisa Reed join Rasmussen College during a time of significant growth for the Wausau campus, which is currently seeking additional qualified professionals to fill a number of available positions in student services, instruction, and managerial roles.
As it welcomes new faculty members, Rasmussen College also announces a search for qualified candidates to fill a number of available positions at its Wausau campus. Recently named one of the Top 20 Companies Hiring Now and Top 100 Companies for Working Families, Rasmussen, Inc. continues its long-standing efforts to provide employees and their families with a wide range of opportunities for growth and improvement, from healthcare benefits to professional development.
"Recruiting top talent is an ongoing priority for Rasmussen College, and we are proud to bring new job opportunities to the Wausau area as our campus continues to expand its educational capabilities," Rasmussen College Wausau Campus Director Sue Williams said. "We credit much of our success, including the incredible 97 percent employment rate of Rasmussen College graduates*, to our talented faculty and staff, who utilize their real world experience and dedication to providing exceptional educational opportunities to help our students succeed."
Tom Lisack brings more than 27 years of teaching and industry experience to his position as full-time General Education Instructor. Prior to joining Rasmussen College, he was employed as an Instructor at a number of educational institutions based throughout the Midwest. Lisack holds a Doctorate in Educational Leadership from the University of Phoenix, a Master of Arts in English from the University of Notre Dame, and a Bachelor of Arts in Journalism from the University of Minnesota – Winona. In addition to his extensive teaching background, Lisack has gained a wide range of industry experience as a journalist, professional writer, and editor. He has also served as a speaker for a variety of professional organizations, including the National Council of Teachers of English, Oberlin College Teachers Academy, and National Endowment for the Humanities, among others.
Lisa Reed will lead instruction in a variety of business courses in her new role as full-time instructor at Rasmussen College. She holds a Master of Business Administration from Marquette University and a Bachelor of Arts in Production Management from the University of Northern Iowa. Prior to joining Rasmussen, Reed served in several managerial roles at Harley-Davidson Motor Co. and John Deer Horicon Works.
Corinne Solsrud joins Rasmussen College as the new Learning Center Coordinator. She holds a Master of Science in Educational Administration from the University of Wisconsin – Madison and a Bachelor of Arts in English Education from St. Olaf College in Northfield, Minn. Previously, she served as the Senior Project Evaluator and Instructor for Upper Iowa University – Wausau Center and as Executive Director for The Marathon County Literacy Council, where she oversaw all aspects of the organization. Solsrud will support students through a variety of mentor-based services in her new role at Rasmussen College.
For additional information about Rasmussen College, please visit http://www.Rasmussen.edu.
For additional information about career opportunities and requirements at Rasmussen College, please visit http://www.RasmussenInc.com.
*Employment data based on an internal survey of graduates from July 2008 through June 2009.
ABOUT RASMUSSEN COLLEGE
Founded in 1900, Rasmussen College is a premier provider of educational experiences, dedicated to the growth and development of its students, employees, and the communities it serves. Accredited by the Higher Learning Commission, Rasmussen College offers Bachelor's and Associate's degrees in fields with the greatest occupation opportunities to more than 15,000 students both online and through its network of 18 campuses. By partnering with leading universities, Rasmussen offers opportunities to students beyond the Bachelor's level. The Rasmussen Partner Network gives students the opportunity to earn Master's and Doctoral degrees completely online, at their own convenience, from prominent universities around the country. To learn more about Rasmussen College, please visit http://www.Rasmussen.edu.
# # #