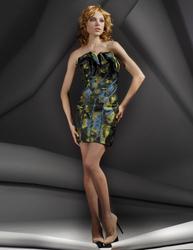 New York, NY (Vocus) May 13, 2010
Fashion is continuously evolving, and today's formal trends are much different than those of the past. Women and girls are choosing to wear short dresses to formal occasions, especially for homecoming and prom. Elegant, fashion-forward and fun, these short styles are embellished with the finest details that will surely make you stand out in the crowd.
Especially since the weather is getting warmer, a light and flirty short dress is the perfect choice for those summer events. From strapless sweetheart necklines, to one-shoulder straps and beaded necklace-style halters, each Jovani dress is uniquely tailored to flatter all body types. Here's a chance to be creative when it comes to choosing an evening dress, and remember to pick one that is the most self-reflective. Don't be afraid to be bold and daring, after all, it is those who take risks to look different that are remembered.
From the runway shows to the pages of high fashion magazines, not to mention celebrity-studded events, super embellished short dresses are the latest trend. With a variety of details, including jeweled studs, chains and fringes, it's no wonder that singers like Carrie Underwood and Taylor Swift have chosen to perform on stage in Jovani's short styles. Lace is also a big trend for this season, and it is the perfect light fabric for warm weather occasions. Wear a short dress with a bright-colored lace overlay and tiny bead detail, or even a flowy chiffon dress with a tulle-layered wire hem skirt—and be this summer's fabulous fashionista.
A lot can be done with a short cocktail dress. Dress it up with glamorous accessories, such as sparkly jewelry and high strappy shoes. Not to mention, you can add loose flowing hair and dramatic eye makeup to the mix for a true head-turning look. Keep a busy style simple with a neat up-do and natural makeup, as well as minimal to no jewelry accessories. It is important not to overtake a vibrant-colored or pattern print dress with additional elements such as these. This will allow the Jovani dress to stand out on its own with utter elegance.
So get this notion that only long dresses and gowns are for black-tie occasions. Jovani's short dresses for 2010 are the newest additions to designer formal wear. Retire the simple, little black dress, and jazz it up with a jeweled one-shoulder dress that features a ruched fitted bodice. Visit jovani.com and browse through all the latest collections of short dresses for prom, homecoming, wedding receptions, and more.
Company
Jovani is a family-owned fashion house that designs and manufactures elegant evening attire. As a well-known woman's designer and a top name in formal wear, Jovani has transformed into an internationally recognized brand that can be seen on the likes of A-list celebrities, and is featured on the cover spreads of high fashion magazines. Classic sophistication, mixed with trend details and flattering styles, is what makes Jovani a favorite choice for all special occasion needs.
Contact: Lianne Gourji
Phone: (212) 279-0222 Ext. 111
###