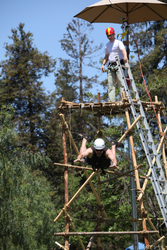 "The Boy Scout's motto is 'be prepared' but they didn't come close. The Boy Scouts were outrageously incompetent," said San Jose attorney Richard Alexander
San Jose, CA (PRWEB) May 14, 2010
Linden Feldman, age 44, a software engineering manager, took his 10 year-old son and 9 year-old daughter to the Scout-O-Rama on May 9, 2009, sponsored by the Santa Clara Council of the Boy Scouts of America at Kelley Park, San Jose.
No one ever imagined that he would fall 25 feet, a fall that was "absolutely impossible" and one that "just could never happen." The fall changed his life forever and it horrified his children who watched their father free fall to the ground.
The Scouts offered a zipline ride, providing a harness to hold riders as they jumped from a tower 25 feet high and "zipped" down a wire at 40 mph.
The complaint alleges that on that morning Boy Scout leader David Land, shown in the photo, incredibly did not know he had to shackle riders to the safety ring on the harness. Instead, Land attached riders to a thin piece of nylon cloth, strong enough to hold children, but incapable of holding Feldman, the first adult to ride.
Feldman, a former Eagle Scout, was told he was safely hooked to the zipline and jumped from the tower, yelling "Geronimo."
In a terrifying instant, in front of his children, he slammed to the ground.
Feldman suffered catastrophic personal injuries. He was in a coma for a week with a traumatic brain injury, a collapsed lung, respiratory failure and required surgery to remove portions of his bowel. After 7 days in ICU and 10 days in the hospital, he is still recovering from his devastating injuries as a direct result of an accident that should never have happened.
"The Boy Scout's motto is 'be prepared' but they didn't come close. The Boy Scouts were outrageously incompetent," said San Jose attorney Richard Alexander, of Alexander Hawes, LLP, who has filed a lawsuit for the Feldman family in the Santa Clara County Superior Court , Case No. 109CV145884, against the Boy Scouts of America and the Santa Clara County Council of Boy Scouts.
###