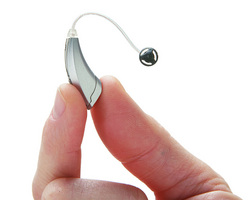 SKD designed Zon to eliminate a harmful stigma... We are honored that Cooper-Hewitt has selected Zon as an innovative solution for the healthcare industry.
Marina Del Rey, CA (PRWEB) May 13, 2010
A hearing aid designed by Stuart Karten Design (SKD) for Starkey Laboratories, Inc. has been selected for inclusion in the "National Design Triennial: Why Design Now?" exhibition on view at Cooper-Hewitt, National Design Museum in New York from May 14, 2010, through Jan. 9, 2011.
The exhibition, which examines why design thinking is an essential tool for solving some of today's most urgent problems, features SKD's Zon hearing aid as a powerful case study that highlights the ways that creative problem solving can improve the quality of healthcare.
"When we started the project, we were shocked to discover that most people with hearing loss live in denial for five to nine years before seeking treatment because they associate with hearing aids with weakness and old age," says SKD Principal Stuart Karten. "We designed Zon to eliminate this harmful stigma and provide hearing-impaired people with a discrete hearing aid that speaks to personal enhancement, style and sophistication. We are honored that Cooper-Hewitt has selected Zon as an example of an innovative design solution for the healthcare industry."
Modeled with taut, precise surfaces, Zon minimizes skin contact and allows freer airflow behind the ear, promoting a more comfortable user experience. Available in a palette of six understated colors that complement users' hair and skin tones, the hearing aid becomes virtually invisible when placed behind the ear. Functional innovations, such as a battery door designed so that users can lay the hearing aid on the table during the daily battery loading for extra stability, improve usability for the 60- to 85-year-old target demographic, many of whom suffer from diminished dexterity.
Organized by Cooper-Hewitt curators Ellen Lupton, Cara McCarty, Matilda McQuaid and Cynthia Smith, the National Design Triennial will be global in reach for the first time, reflecting the connectedness of design practices and the need for international cooperation to solve the world's problems.
"This groundbreaking exhibition gives voice to a revolution taking place within all areas of design practice, from how materials and products are planned and conceived to how goods and services are manufactured, distributed and reclaimed worldwide," said McCarty, curatorial director of the museum. 'Why Design Now?' takes a positive look at the intriguing and ambitious projects shaping this revolution."
About Cooper-Hewitt, National Design Museum:
Cooper-Hewitt, National Design Museum is the only museum in the nation devoted exclusively to historic and contemporary design. Founded in 1897 by Amy, Eleanor, and Sarah Hewitt— granddaughters of industrialist Peter Cooper—as part of the Cooper Union for the Advancement of Science and Art, the museum has been a branch of the Smithsonian since 1967. The museum presents compelling perspectives on the impact of design on daily life through active educational programs, exhibitions and publications.
For further information, call (212) 849-8400 or visit http://www.cooperhewitt.org.
About Stuart Karten Design:
For 25 years, SKD has been a strategic partner to companies seeking to differentiate their products through creativity. SKD's user-centered design aims to develop products that excite their target customers and reflect empathy for user needs. Connecting creativity with commerce, SKD designs products that serve as brand ambassadors for clients, leading to greater market share and increased profit.
###