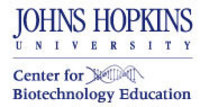 "We created the Center for Biotechnology Education to help share the knowledge and resources of our premier research institution with students, working professionals, teachers and the general public."
Washington, DC (PRWEB) May 13, 2010
The Johns Hopkins University's Zanvyl Krieger School of Arts and Sciences, Advanced Academic Programs, will unveil the Center for Biotechnology Education on Thursday, May 13, at its fifth annual biotechnology research symposium, from 5:30 to 8:30 p.m. in Gilchrest Hall on the Montgomery County campus, 9601 Medical Center Drive in Rockville.
The center will expand the scope of Johns Hopkins' biotechnology education by adding symposia, workshops, youth development programs and non-credit training to its current offering of graduate degrees, master's certificates and fellowships.
"The Johns Hopkins University has long played a significant role in scientific research and discovery," said Patrick Cummings, director of the center and senior associate program chair of the biotechnology program. "In that tradition, we created the Center for Biotechnology Education to help share the knowledge and resources of our premier research institution with students, working professionals, teachers and the general public."
The establishment of the Center for Biotechnology Educations positions Johns Hopkins University as a leader of educational continuum for regional, national and international biotechnology programming and leadership.
"The center is working to forge strong partnerships with industry and government organizations, area school districts, and other Johns Hopkins entities," said Richard McCarty, chair of the center and of the Advanced Biotechnology Studies program. "Our goal is to build a pipeline of students and professionals equipped to achieve success in K-12 education, graduate school, and the workplace in the fields of biotechnology, bioinformatics, bioscience regulatory affairs, and bioscience business and leadership."
The center's inaugural event will feature keynote speaker Dr. Jesse Goodman, chief scientist and deputy commissioner for science and public health at the U.S. Food and Drug Administration, and poster presentations from graduate students in Johns Hopkins biotechnology, bioinformatics, and regulatory affairs programs, as well as area high school students.
The administrative office for the Center for Biotechnology Education is on the 6th floor of the Wyman Park Building on the Homewood campus in Baltimore. The center also has an office on the Montgomery County campus, featuring a state-of-the-art laboratory for graduate student training and workshops, as well as a dedicated computer laboratory for bioinformatics workshops.
For more information about Johns Hopkins' Center for Biotechnology Education, please contact Patrick Cummings at 410-516-5842. The center's website is http://biotechnology.jhu.edu.
Johns Hopkins University news releases can be found on the World Wide Web at http://releases.jhu.edu/
Information on automatic E-mail delivery of science and medical news releases is available at the same address.
# # #