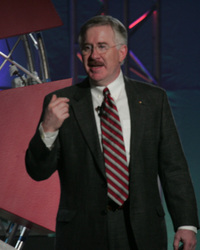 For many years, Jim has been one of the great champions of small businesses ... Giovanni Coratolo, V.P. Small Business Policy, U.S. Chamber
Washington, DC (PRWEB) May 13, 2010
Today, the U.S. Chamber of Commerce announced that leading small business expert, Jim Blasingame, will moderate the opening panel at its America's Small Business Summit 2010. The Summit, held at the Omni Shoreham Hotel, May 17-19, 2010, is being conducted to promote the important role America's small businesses play in job creation and economic prosperity and to encourage members of the government to consider small business issues more when making laws, regulations and trade agreements.
Jim Blasingame is recognized as one of the world's leading experts on small business and entrepreneurship. Blasingame is president of Small Business Network, Inc., and perhaps is best known as the creator and host of the nationally syndicated weekday small business radio program, The Small Business Advocate® Show.
The U.S. Chamber is the world's largest business federation representing 3 million businesses of all sizes, sectors, and regions, as well as state and local chambers and industry associations. More than 96% of U.S. Chamber members are small businesses with 100 employees or fewer.
"We are very excited to have our long-time friend, Jim Blasingame, contribute his professional moderating skills to the kick-off event of our 2010 Summit," said Giovanni Coratolo, Vice President of Small Business Policy at the U.S. Chamber. "For many years, Jim has been one of the great champions of small businesses, as well as an abiding supporter of the work we do here on behalf of these heroes."
"It's always an honor to be invited back to support my friends at the U.S. Chamber," said Blasingame. "The work they do on behalf of America's small businesses, especially representing these very busy job creators with policy makers in Washington, is more than important; it's invaluable."
In addition to his syndicated small business radio show, which is also simulcast worldwide on the Internet, Blasingame is a syndicated newspaper columnist, blogger, author of two books and founder of SmallBusinessAdvocate.com. Blasingame is a high-energy keynote speaker and is often sought out for his exceptional skills as an event emcee and panel moderator.
Small Business Network, Inc. (SBN), produces and distributes multi-media small business content worldwide. SBN sponsors include: FedEx, Administaff and Palo Alto Software.
# # #