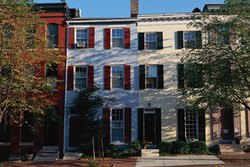 We feel this effort can be a blueprint for bringing communities together in the interest of saving energy and improving quality of life
Philadelphia, PA (PRWEB) May 13, 2010
Perched atop a "cool" roof at 1515 Market Street, Mayor Michael Nutter announced that 1200 Block of Wolf Street has won the RetroFIT PHILLY "Coolest Block" contest. Nutter's announcement followed the signing of legislation aimed at helping Philadelphia become "the Greenest City in America." The new law requires installation of energy-efficient reflective roofs or green roofs on all new no- and low-slope roofs throughout the city.
"I would like to congratulate the 1200 Block of Wolf Street and thank all the neighbors who came together to participate in the 'Coolest Block' contest," said Mayor Nutter. "Many of the row homes that give our city its unique character were built long before today's energy-conscious environment. This contest and the legislation I signed into law today will help Philadelphia become a city of the future and set an example for others throughout the country."
"We feel this effort can be a blueprint for bringing communities together in the interest of saving energy and improving quality of life," says Liz Robinson, executive director, The Energy Coordinating Agency of Philadelphia (ECA). "This contest is just one of many ways we hope to educate all Philadelphia residents about how to reduce their heating and cooling bills, make their homes more comfortable and preserve the historic blocks that make our city unique."
Organized by ECA, the City of Philadelphia and The Dow Chemical Company, the contest allowed residents of Philadelphia row homes to compete to win an energy efficiency upgrade for their entire block, including an energy-saving "cool roof," air sealing and insulation. The Dow Chemical Company contributed products and technologies, and The Dow Chemical Company Foundation provided financial support.
"Our company is committed to using science and technology to increase the energy efficiency of homes and other structures," said Jerome Peribere, president and CEO, Dow Advanced Materials, which is headquartered in Philadelphia. "Helping to bring communities together to make a positive change for their city and environment is one of the ways we can fulfill that commitment."
All homes on the North and South side of the 1200 block of Wolf Street will receive:
•An energy audit - from basement to rooftop - assessing all the opportunities to save energy, save money and solve energy-related health and safety problems in the home;
•Application of a white, reflective "cool roof" coating;
•Installation of Dow's sealants and insulation products in the participating contestants' residential homes, in both the basement and the attic to help increase comfort and energy savings; and
•A block party on June 19, 2010 to celebrate!
Entries were reviewed by a panel of judges including representatives from local media, environmental organizations, and the building industry. The 1200 block of Wolf Street stood out among the entries because of its high resident participation, condition and type of roofs currently installed, and essay submission.
About Energy Coordinating Agency of Philadelphia
The Energy Coordinating Agency (ECA) is a non-profit corporation, founded in 1984, whose mission is to help people conserve energy and to promote a sustainable and socially equitable energy future for all in the Philadelphia region. Our services to low income people are at the heart of our mission and are provided in collaboration with our citywide network of 14 Neighborhood Energy Centers. In the past year, ECA provided over 40,000 low income families 86,218 energy services, valued at more than $27 million, leveraging our budget of $8.4 million more than 3 times on their behalf. These services include: budget and energy counseling; bill payment assistance; energy conservation treatments, and energy education. Our conservation services saved these families an average of 20% of their energy costs, enabling them to meet their expenses and stay in their homes.
About Greenworks Philadelphia
Mayor Michael Nutter created the Mayor's Office of Sustainability (MOS) to help the city leverage its existing assets and mitigate its exposure to the effects of global warming. This means changing the way that government does business. It also means giving citizens the tools they need to lower their own carbon emissions and reduce their vulnerability to increasing energy costs. Sustainability is a core mission for the Nutter Administration and the work of MOS, primarily through the implementation of Greenworks Philadelphia, will help decrease the city's vulnerability to energy prices and climate change, increase our capacity to compete in global markets for new jobs and new businesses, and ensure that all residents share in the city's prosperous future.
About The Dow Chemical Company
Dow combines the power of science and technology with the "Human Element" to passionately innovate what is essential to human progress. The Company connects chemistry and innovation with the principles of sustainability to help address many of the world's most challenging problems such as the need for clean water, renewable energy generation and conservation, and increasing agricultural productivity. Dow's diversified industry-leading portfolio of specialty chemical, advanced materials, agrosciences and plastics businesses delivers a broad range of technology-based products and solutions to customers in approximately 160 countries and in high growth sectors such as electronics, water, energy, coatings and agriculture. In 2009, Dow had annual sales of $45 billion and employed approximately 52,000 people worldwide. The Company's more than 5,000 products are manufactured at 214 sites in 37 countries across the globe. References to "Dow" or the "Company" mean The Dow Chemical Company and its consolidated subsidiaries unless otherwise expressly noted. More information about Dow can be found at http://www.dow.com.
About Dow Building & Construction
A business group within Dow's Advanced Material Division, Building & Construction is comprised of two business units - Dow Building Solutions and Dow Construction Chemicals - each of which offer strengths in channel management, branding, technology development / support and demand creation. The two business units collectively employ about 1,700 people worldwide, and generate almost $2 billion of revenue while operating more than 30 plants worldwide. Through its strong sales support, customer service and building science expertise, Dow's Building & Construction business units provide meaningful solutions for customers today, while also addressing the industry's emerging needs and demands with advanced industry knowledge.
# # #