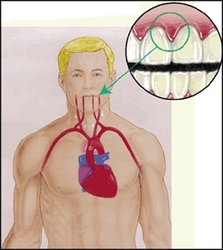 Healthy gums are a part of my cardiovascular health. Erica Davis first female paraplegic to climb Mt. Kilimanjaro
Vista, CA (PRWEB) May 17, 2010
One of the race participants in this year's Strawberry Festival 5K will stand out more than most—but she'll do it seated in her wheelchair. That person is Erica Davis.
Since a one-in-five-million genetic anomaly left her unable to walk at age 24, Davis has done extraordinary things, most notably becoming the first female paraplegic to climb Mt. Kilimanjaro. This epic journey is featured in the forthcoming film Through the Roof. On Sunday, she is here to race—and to educate. Much of her mission is to disprove misconceptions of challenged athletes, especially women. More recently, she has partnered with Vista's Coleman Dentistry to educate the public about the link between gum disease and heart disease. After the race, she will be signing posters and talking to fans at the Coleman Dentistry's Healthy Gums = Healthy Hearts booth. The race begins at 7:00am on Sunday, May 30th, in Downtown Vista.
Health, fitness, and enjoying a full life are passions that Davis has always embodied and shared with others. If anything, becoming a paraplegic has only focused her more. It was on New Year's Eve of 2005 that a ruptured cluster of blood vessels leaked into her spine and robbed her of movement below the navel. She doesn't deny that her road has sometimes been hard. But as her family and friends can attest, her positive attitude and will not to let her challenges limit her life have allowed her to follow her passion of athletic excellence. So when the opportunity to climb Mt. Kilimanjaro presented itself—along with the chance to be a role model for other challenged athletes—Davis leapt at it. The results of that successful journey can be seen in the film Through the Roof, which was produced by Matt Peters and directed by Chris Theibert. The project was conceived by Derek Gates of the CHEK Institute of Vista.
Davis' connection with Coleman Dentistry grew out of being a patient. As a high-level athlete, she was impressed with their concern for their patients' overall health. When Dr. John Coleman informed her of the growing body of research showing that untreated gum disease increases risk of heart disease, she was shocked it hadn't been more widely publicized. Heart disease accounts for over one in four deaths in America. While healthy eating and exercise are rightly lauded as ways to prevent the development of heart disease, one of the easiest and most accessible tools is a simple toothbrush. Now Davis is working with Coleman and staff to spread the word. They will be handing out goodies bags with information and posters of Davis at the summit of Mt. Kilimanjaro as part of that effort.
Coleman Dentistry—headed by father-and-son team of dentists—has been serving Vista's community since 1989. Renowned across San Diego for their care and skill especially in difficult cosmetic cases, Coleman Dentistry has also been a force for improving science education programs and increasing health awareness in North County. Their office is located at 110 Escondido Avenue, Suite 102, in Vista, and they can be reached at (760)726-0770.
If you would like more information, please contact:
Ryan Coleman
Patient Relationship Coordinator
Coleman Dentistry
Office: (760)726-0770
Work cell: (760)519-1045
ryanjames(dot)coleman(at)gmail(dot)com
###