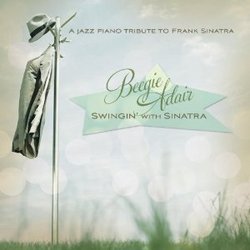 "This tribute is a little more swinging, a lot more nostalgic, and a little more aware that time has passed. Music that will make you remember where you were when you first heard Sinatra sing it" Beegie Adair
Nashville, TN (PRWEB) May 18, 2010
Piano Jazz great Beegie Adair is out with her new album Swingin' with Sinatra, the long awaited follow up to her 1997 debut Green Hill recording, The Frank Sinatra Collection. This much anticipated sequel features a dozen tracks from Sinatra's rich collection. The music interpreted in Adair's unique piano style includes new takes on familiar songs such as New York, New York; You Make Me Feel So Young and Angel Eyes.
"It really is impossible to do justice to Frank Sinatra's artistry in one recording" says Adair "This tribute is a little more swinging, a lot more nostalgic, and a little more aware that time has passed. There are some tunes that are vintage Sinatra, some swingers, some love songs and always, some music that will make you remember where you were when you first heard Sinatra sing it"
About Beegie Adair
Piano Jazz great Beegie Adair is Kentucky born and raised, but lives and records in Nashville. Described by Entertainment News as "one of the finest piano players in the world" and by the Los Angeles Times as "Elegant", Ms. Adair brings her inventive jazz sense and wonderful sense of timing to her latest project.
About Green Hill Music
For more information about Beegie Adair and Swingin' with Sinatra, visit http://www.greenhillmusic.com
###