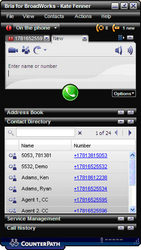 Waltham, MA (PRWEB) May 14, 2010
DSCI Corporation, Inc., the leading New England Internet Telephony Service Provider (ITSP), has added the Bria for BroadWorks softphone from CounterPath Corporation to its iPBX Hosted Communications Service offerings.
"DSCI selected the Bria for BroadWorks softphone because it interoperates seamlessly with our iPBX service, and also based on CounterPath's reputation as a leader in softphone development," said Jeff Kubick, DSCI's VP of Marketing. "Our experience and research shows increasing adoption of softphones, especially for use by teleworkers, road warriors and call center agents. The Bria for BroadWorks softphone provides a robust solution to meet the diverse needs of these different users."
Because the iPBX Hosted Communications Service resides on BroadSoft's BroadWorks platform, Bria for Broadworks tightly integrates with and enhances iPBX capabilities. The Bria softphone provides advanced call control capabilities, auto-provisioning, and feature integration with iPBX. Service management, call history, and contact directory information on Bria interfaces directly with the BroadWorks platform, allowing seamless operation and increased productivity.
"Our strength is in providing innovative communications products and solutions which offer immediate added value to end users but which also integrate easily with companies' existing telephony systems," said Robert Brown, VP of Marketing for CounterPath. "We are pleased to provide DSCI with a comprehensive solution for their iPBX Hosted Communication Service."
The Bria softphone is offered by DSCI as an add-on service to its iPBX Hosted Communications Service. For more information on iPBX, visit the company's website at http://www.dscicorp.com/ipbx.
About DSCI Corporation
DSCI Corporation, headquartered in Waltham, MA, is an employee-owned company which provides integrated communications solutions for business, including voice, data, Internet, and IP products. Founded on the principle that each customer's needs are unique, DSCI works with businesses to identify solutions that support the customer's goals today and into the future.
About CounterPath
CounterPath Corporation is a leading provider of innovative desktop and mobile VoIP software products and solutions. The company's product suite includes SIP-based softphones, server applications and Fixed Mobile Convergence (FMC) solutions that enable service providers, enterprises and Original Equipment Manufacturers (OEM) to cost-effectively integrate voice, video, presence and Instant Messaging (IM) applications into their VoIP offerings and extend functionality across both fixed and mobile networks. Visit http://www.counterpath.com for more information.
###