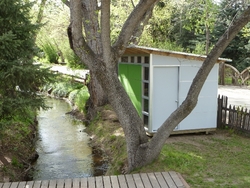 ...seeing that they [Studio Shed] were close to half the price and located in Boulder I knew we'd found what we were looking for.
Boulder, CO (PRWEB) May 17, 2010
Entering its second summer as a start-up, Studio Shed is pleased to announce their sixth installation in Boulder, Colorado. Last Friday, May 07, 2010 Jason and Sonia Schnitzer and their two young children excitedly observed the assembly of their new storage unit and perfect complement to their modern home in Boulder's Chautauqua neighborhood.
In search of the perfect detached storage unit, Jason Schnitzer perused the ad pages of Dwell Magazine and came across one of Studio Shed's main competitors.
"It appeared this was our only option, but I went ahead and did an online search and Studio Shed popped up immediately. After reading a bit about the company and seeing that they were close to half the price and located in Boulder I knew we'd found what we were looking for." -- Jason Schnitzer
The Dwell-esque version of a modern backyard shed, Studio Shed is steadily building the business from the ground up. The company did a soft launch in Denver at the Colorado Garden & Home Show Winter 2009. This year the Show labeled Studio Shed a "Hot Product of the Year". Since its inception, the company's founders, Mike Koenig and Jeremy Horgan-Kobelski, have perfected the prefabrication and shipping processes, installed six sheds in Boulder, four in California (Palo Alto, Charmichael, Culver City, and San Diego).
Purchases made in the state of Colorado take no more than two weeks from the date the on-line order is placed to the one-day-installation. Otherwise, Studio Shed guarantees a 3-4 week delivery and installation. Studio Shed's prefabricated panels use a variety of green building materials: FSC-certified dimensional lumber, recyclable aluminum-frame windows and HardiePlank siding, Low-VOC paint. Complete structure engineered with absolute minimum waste.
Orders placed through June 15th, 2010 receive a 5% discount.
For more information: http://www.studio-shed.com
###